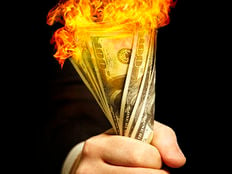 A surprise policy move by Chinese central bank officials sent a wave of volatility across global financial markets as currency fluctuations sparked panic selling.
In an ongoing effort to stabilize financial markets, prevent further capital outflows, and inspire confidence, China's central bank surprised many when it enacted its latest stimulus effort: a historic devaluation of the nation's currency, the yuan. This sudden policy move comes only a day after a big rally in Chinese equities fueled by speculation that the government will accelerate mergers of state-owned enterprises to bolster economic growth.
All in all, investors overseas have been confronted with a slew of volatility amid increased government intervention, casting an even larger cloud over China's already foggy outlook.
Rate Cut in Focus
Volatile trading ensued after China's central bank cut its daily reference rate by 1.9%, which effectively tipped the yuan lower to endure its biggest one-day plunge since 1994. Note how sharp the drop-off is for the yuan in the chart below:
---
Content continues below advertisement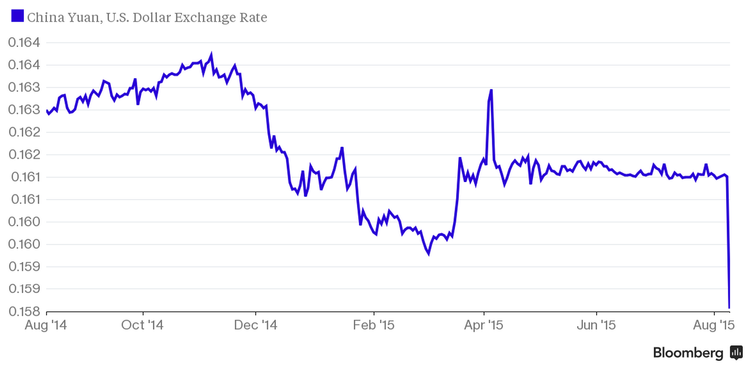 The People's Bank of China called this move a "one-time adjustment" for the yuan and said its fixing will become more aligned with market forces going forward. This historic currency devaluation effort further showcases the commitment on the part of policymakers to inspire confidence and promote economic growth amid a prolonged slowdown; more specifically, this policy move could be regarded as a reaction to the most recent (and disappointing) China exports data.
While policymakers did suggest this move should not be interpreted as a sign to a start of a deprecation trend for the yuan, given the recent streak of unprecedented government intervention overseas, we're not too convinced they are done tinkering with the exchange rate just yet.
China Bond and Yuan ETFs Plummet
Despite hearing soothing words from policymakers with regards to the yuan's sharp move being a "one-time adjustment", this failed to shield many investors from rampant selling pressures that came as a result of the historic currency devaluation. Not surprisingly, yuan ETFs endured a very rough trading session on Tuesday following the rate cut news (daily returns for 8/11/2015):
WisdomTree Dreyfus Chinese Yuan Fund (

CYB

): This

ETF

, which offers exposure to money market rates in China through a portfolio of short-term, investment grade instruments, endured a loss of nearly 3% on the day.
The sharp drop in the yuan's value across the foreign exchange market prompted an equally terrifying sell-off for China bond ETFs:
PowerShares Chinese Yuan Dim Sum Bond Portfolio (

DSUM

): This

ETF

, which measures the performance of yuan-denominated bonds issued and settled outside of Mainland China, lost 2.45% on the day.
Neighboring Asian currencies were also dragged down by the yuan's devaluation:
CurrencyShares Singapore Dollar Trust (

FXSG

) lost 2.29%.
CurrencyShares Japanese Yen Trust (

FXY

) lost 0.40%.
CurrencyShares Australian Dollar Trust (

FXA

) lost 1.44%.
The Bottom Line
It's clear that China's policymakers are willing to do whatever it takes to bring stability and inspire growth; while these interventions generally provide positive catalysts to equity markets, they are still bound to inspire volatile trading as investors deal with looming uncertainty in China's financial system. If you're eager to buy into beaten down China-related ETFs now, remember to utilize a stop-loss in case steeper selling pressures return.
Follow me @SBojinov