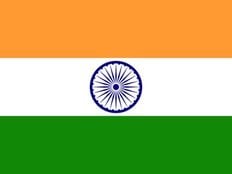 India's economy grew at a 7.4% annual rate between July and September this year, according to official figures, driven by robust domestic demand and manufacturing activity. In addition to surpassing last quarter's 7% growth rate, the country zoomed ahead of China as the region's leading economic growth engine. China's annual growth rate dropped below 7% for the first time since 2009 as its economy has struggled to overcome weaker demand in the West.
With the election of Narendra Modi as India's new Prime Minister last year, economists are hoping for a number of much-needed reforms to drive investment and economic growth. The new government is already pursuing some large-scale reforms, including the cleanup of its tax system, reduced barriers for foreign investment, and new infrastructure projects. In aggregate, these activities could help drive both short- and long-term economic growth.
Investors have been lukewarm on Indian equities so far amid expectations that the Federal Reserve will hike interest rates this month. When U.S. interest rates rise, there's concern that capital will flow out of emerging markets in an effort to capture the better yield. The market also remains a bit on the loftier side in terms of valuations following its dramatic run-up in 2014, when the SENSEX gained 24% compared to losses in broader emerging markets.
With valuations becoming more reasonable following the 2015 downturn, investors may want to take a second look at one of the fastest-growing emerging markets in the world. Mr. Modi's reforms could provide a number of positive catalysts to drive long-term economic growth at a time when most markets remain on uneven footing. At the same time, specific sectors may be poised to reap most of his policies' rewards.
Broad Exposure
Investors looking for broad exposure to India's economy may want to consider the iShares MSCI India Index Fund (INDA C+), which has over $3.5 billion in assets under management. With an expense ratio of just 0.68%, the fund provides a cheap option to gain exposure to the emerging market, with a focus on a diversified basket of 73 large-cap stocks, including Infosys Ltd., Housing Development Finance Corp. Ltd., and Reliance Industries Ltd.
---
Content continues below advertisement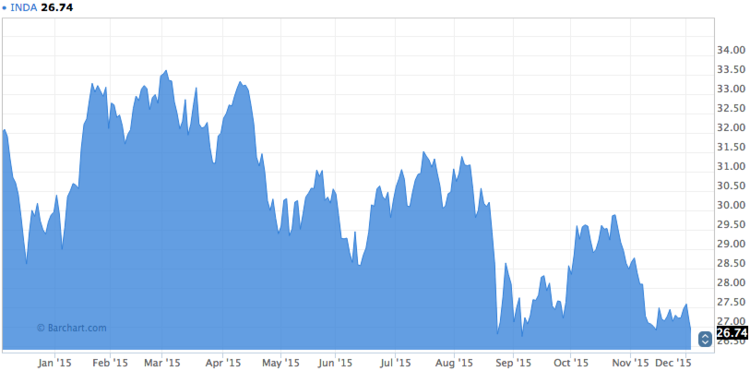 Over the past 52 weeks, the ETF has lost approximately 16% of its value, with about 12% coming since the beginning of the year. The equities in the space remain a bit overvalued on an international basis, with an average price-earnings ratio of 30.77x, but may be more fairly valued when accounting for their rapid growth rates. A beta coefficient of 0.43 also suggests that the ETF may provide great diversification for U.S. investors.
Infrastructure Spending
India's government plans on expanding the total length of its highway system by around 50% before 2020, which translates into a significant investment in its infrastructure. While some of these efforts will be financed through foreign direct investment inevitably tied to foreign companies, there may still be many opportunities for domestic infrastructure firms.
The India Infrastructure ETF (INXX C) provides exposure to 30 leading companies that are representative of the country's infrastructure industries, including Bharti Infratel Ltd., NTPC Ltd., and GAIL India Ltd. With an expense ratio of 0.85% and just $43 million in assets under management, the fund isn't the cheapest way to gain exposure to India's economy nor the most liquid fund in the space, but its focus on infrastructure could pay dividends.
Small-Caps Outperform
The majority of Indian ETFs may have fallen sharply throughout 2015, but the iShares MSCI India Small-Cap ETF (SMIN C+) has fallen just 4.08% over the period. With 232 different companies in its portfolio, including Ashok Leyland Ltd., Federal Bank Ltd., and MindTree Ltd., the fund may provide broader exposure than large-caps to the emerging-market economy while benefiting from the tendency for small-caps to outperform during periods of growth.
With an expense ratio of 0.74% and an average price-earnings ratio of over 33x, investors may be paying more for both the fund and the equities than they are worth with the iShares MSCI India Index Fund (INDA C+), but the benefits may be worth the risk for those willing to assume it. A beta coefficient of 0.57 also suggest a loose coupling with the U.S. markets, which is a good sign for those looking for an opportunity to diversify their portfolio using an emerging market.
The Bottom Line
India's economy continues to grow at a rapid pace following Narendra Modi's election as Prime Minister in 2014. With a number of upcoming reforms on the docket and equities falling throughout 2015, investors may want to revisit this emerging market as a potential opportunity despite the headwinds created by rising U.S. interest rates.