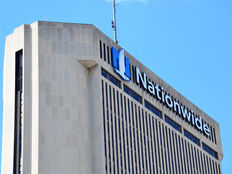 With hundreds of billions of dollars pouring into ETFs this year alone, a number of new and non-traditional providers have been trying to get in on the action.
TransAmerica entered the ETF arena about two months ago. This week, fellow insurance provider Nationwide joins them. Here are this week's new fund launches:
---
Content continues below advertisement
Nationwide Targets Low Volatility, High Diversification
Nationwide's first foray into the ETF world focuses on risk-minimization. Two ETFs use a traditional rules-based methodology that looks for companies with lower risk characteristics that can deliver superior risk-adjusted returns, while the third aims to construct a portfolio that produces maximum diversification benefits.
The Nationwide Risk-Based U.S. Equity ETF (RBUS) is tied to the R Risk-Based US Index, an index that invests in large-cap companies that exhibit lower volatility, reduced maximum drawdowns and higher Sharpe ratios. The index begins with the 500 largest companies by market cap. Those components are then run through a model that gives each a marginal risk contribution value based on factors such as volatility and correlation over the past one-year period. Those securities ranked in the bottom half according to marginal risk contribution make it into the index.
For more ETF news and analysis, subscribe to our free newsletter.
The index then takes the interesting step of equally risk-weighting its securities. Stocks are allocated in such a way that each of the index's 250 components has an equal risk contribution. For example, if stock A is twice as risky as stock B, stock A will only receive half of the allocation that stock B does. The risk-weighting methodology is designed to deliver broad equity market returns while targeting the least volatile securities.
The fund is fairly diverse with seven unique market sectors maintaining weightings between 10-15%. Large-cap stocks dominate the portfolio, but a 30% allocation to mid-caps gives the fund a little added growth potential.
ETFdb.com has ETF investing guides and other e-books to help you navigate the investing landscape using ETFs.
The Nationwide Risk-Based International Equity ETF (RBIN) uses essentially the same methodology as the U.S. Equity ETF, except it looks to developed markets outside of the United States and Canada. The fund currently has 59% of assets invested in Europe and 37% in the Asia Pacific region while maintaining the same tilt toward large caps. Its largest allocation goes to industrials (21%) with consumer cyclicals, financials and healthcare not far behind.
To take a look at other foreign large-cap ETFs, click here.
When investors hear the word "diversification," they often think that more stocks equal more diversification. That's not necessarily true. Diversification is a matter of how securities correlate with one another in order to achieve true risk-minimization. The Nationwide Maximum Diversification U.S. Core Equity ETF (MXDU) operates on that principle. It's indexed to the TOBAM Maximum Diversification USA Index, which looks to maximize its diversification benefits by examining a stock's correlation to other constituents within the index.
The index's starting universe consists of all U.S. companies with a market cap of $5 billion or more, eliminating those that fail to meet minimum liquidity or socially responsible investing requirements. Components are then analyzed to determine their volatility and correlation, ultimately landing on the lowest volatility portfolio that maximizes the overall Diversification Ratio.
The fund currently holds more than 400 stocks. It maintains 20% weightings to consumer cyclical and healthcare names, with consumer discretionary and tech stocks each earning double-digit allocations.
The Bottom Line
Nationwide makes a fairly conservative entry into ETFs by sticking to broad-based large-cap equity offerings. The Maximum Diversification ETF may be the most unique, as there are few products that attempt to quantify the level of a fund's diversification. Nationwide is entering a crowded space and may have difficulty distinguishing itself from the many competitors in this area.
Sign up to ETFdb.com Pro to get access to all the PDFs located on our ETF Guides page.