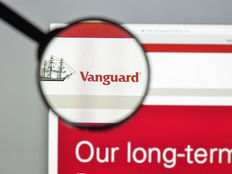 Vanguard has become a titan of the fund industry using a pretty simple strategy – focus on straightforward and really cheap products for investors.
For the most part, that has meant plain vanilla index ETFs with some of the lowest costs in the industry. It wasn't long before the idea of Vanguard joining the actively managed ETF business was unthinkable – yet, here we are.
Here are this week's new fund launches:
---
Content continues below advertisement
Vanguard's New Suite of Factor-Tilted ETFs
Vanguard's six new ETFs are the company's first foray into the factor-based investing universe, a subsection of the ETF marketplace that it was previously hesitant to join. In launching the new factor ETFs, Vanguard will compete not only on cost but also in management style. The fact that these funds will be actively managed by Vanguard's internal quant team will make them more nimble and easy to adapt to changing market conditions.
The five individual factor ETFs – the Vanguard U.S. Minimum Volatility ETF (VFMV A), the Vanguard U.S. Liquidity Factor ETF (VFLQ B), the Vanguard U.S. Momentum Factor ETF (VFMO B+), the Vanguard U.S. Quality Factor ETF (VFQY A-) and the Vanguard U.S. Value Factor ETF (VFVA B+) – are pretty industry-standard as far as how they go about selecting names for their portfolios, but the 0.13% expense ratio for each will easily make them the cheapest actively managed ETFs in the smart beta space. The sixth fund – the Vanguard U.S. Multifactor ETF (VFMF B+) – will look for the best combinations of strong recent performance, strong fundamentals and low prices relative to fundamentals to fill out the fund.
The Liquidity Factor ETF may be the most unique of the bunch. The strategy of targeting companies that have small floats or are thinly traded usually doesn't come up in factor investing. These types of stocks typically come with added trading risks and higher transaction costs, so it will be interesting to see how effective this strategy will be in practice.
For more ETF news and analysis, subscribe to our free newsletter.
Direxion Offers Slightly Leveraged Fund Options
Direxion is well-known throughout the industry for the dozens of triple-leveraged funds it offers to traders and speculators. Its latest offerings are downright tame by comparison. This week, Direxion is adding four new funds to its Portfolio+ ETF roster, a group of funds that follow broad market indexes, while adding 25% additional exposure to that underlying index, through the use of futures contracts, to boost returns.
The Portfolio+ Total Bond Market ETF (PPTB ), the Portfolio+ Developed Markets ETF (PPDM A), the Portfolio+ Emerging Markets ETF (PPEM A-) and the Portfolio+ S&P Mid Cap ETF (PPMC A-) will be added to Direxion's line up of two existing ETFs that offer similar exposure (i.e. 1.25x) to the S&P 500 and S&P Small Cap 600 indices. According to Direxion, the Portfolio+ ETFs deliver access to manageable levels of added exposure to magnify returns in a cost-effective, transparent, liquid structure.
The 2nd ETF Focused on Electric Cars
Just a few weeks ago, we saw the launch of the first ETF focused on the electric vehicle industry. This week, we get the second as the Innovation Shares NextGen Vehicles & Technology ETF (EKAR C) makes its debut. The fund's index will focus on companies that either develop or invest in "new energy vehicles," such as electric cars, or "autonomously driven vehicles," such as cars that are meant to drive themselves.
Horizons Looks to Deliver Growth, High Yield and Risk Protection in a Single Package
The Horizons Cadence Hedged US Dividend Yield ETF (USDY A-) takes a multi-layered approach to constructing its portfolio.
Its available universe starts with the Russell 1000 index, which is then narrowed down by selecting only those companies that have an above-average dividend yield and demonstrate a high degree of financial strength, as measured by their strong balance sheets, predictable earnings, cash flow growth and a history of dividend growth. Additionally, the fund has the ability to buy and sell call-and-put options on the major markets to help provide downside protection and risk management. The fund will be the fourth ETF overall in the Horizons lineup.
The Bottom Line
There's little doubt that the new Vanguard ETFs will get the most attention this week. These new funds are a significant departure from the company's traditional way of doing business, but their management style and competitive pricing should make them quite attractive to investors looking to factor-tilt their portfolios. The new Portfolio+ funds from Direxion are also a bit of a departure from the company's norm. The slightly leveraged nature of the funds may seem to be a relatively simple way to try to boost returns, but strategies that employ the ongoing use of futures contracts tend to be costly and make less-than-ideal long-term holdings.
Sign up for ETFdb.com Pro and gain access to more than 50 all-ETF model portfolios, each of which is backed by a unique investment thesis.