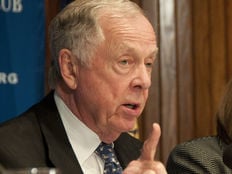 With the ETF industry continuing to add hundreds of billions of dollars in new assets, a curious group is trying to get in on the action – celebrities.
Shark Tank bad guy Kevin O'Leary has been in the ETF game for nearly three years through his O'Shares brand of funds. Last year, Quincy Jones lent his name to an as-yet-to-be-launched ETF. This week, we get a new ETF from someone who is not so much a celebrity as he is a business legend.
Here are this week's new fund launches:
---
Content continues below advertisement
The Pickens Oil Investing Philosophy in an ETF
At 89 years old, Texas oilman T. Boone Pickens has pretty much done it all. His involvement in companies, such as Gulf Oil, Unocal and Phillips Petroleum, helped turn him into a billionaire. He has Oklahoma State University's School of Geology and football stadium named after him. He ran his hedge fund, BP Capital Management, and, this week, launches the first ETF bearing his name, the NYSE Pickens Oil Response ETF (BOON C).
The fund's philosophy is based on the Pickens Plan, a comprehensive approach to satisfying America's energy needs. Some of the tenets of the plan include using America's natural gas supplies to help replace imported oil, upgrading the country's electrical transmission grid, developing alternative energies, such as wind and solar, and using technology to increase energy efficiency.
The fund is indexed to the NYSE Pickens Oil Response Index, which offers exposure to companies that both produce and consume oil, gas and other energies. It looks for companies that are highly correlated to both short- and long-term movements in Brent Crude Oil prices. Because the fund invests in both producers and consumers, only half of the fund is allocated to the energy sector. One-fourth is invested in industrials, while the remainder is in a combination of basic materials, consumer and tech names. BOON invests in roughly 80 different companies of all sizes, and charges an annual expense ratio of 0.85%, a relatively high number for a passively-managed fund where the underlying index only reconstitutes itself once a year.
For more ETF news and analysis, subscribe to our free newsletter.
Davis Goes International to Expand Its Lineup
Davis Advisors has been in the mutual fund business for decades, but its ETF business is still small and growing. It launched its first three ETFs back in early 2017, and now adds a fourth to its roster, the Davis Select International ETF (DINT B+). The actively managed fund targets attractive businesses from outside the U.S. with a conservative long-term approach in mind. The portfolio currently contains just 29 names.
The fund has nearly half of its assets committed to emerging markets, most of which is going to China. Other top nation holdings include France, Switzerland, South Africa, Canada and the United Kingdom. Consumer discretionary stocks make up nearly one-fourth of the portfolio, with industrials and tech accounting for another one-third. DINT can invest in companies of all sizes, but tends to lean toward larger names.
Whitford Debuts With a Momentum Strategy
Whitford Asset Management joins the ETF marketplace this week with its first offering, the Volshares Large Cap ETF (VSL C+). The fund takes a unique approach to building its portfolio by looking for companies that exhibit low volatility characteristics, but also demonstrate price momentum that could deliver above average returns.
To create the portfolio, the fund uses the Whitford Model, which analyzes the market sentiment for each company in the starting universe of the 500 largest companies based on the proximity of each company's opening and closing prices to their mean, and its volatility to identify the most attractive securities in terms of their potential for short-term appreciation relative to their expected volatility. The model will ultimately identify 25 companies for investment. Each holding will receive a 3.9% weighting, with the remaining 2.5% being held in cash. The model and the fund's holdings are updated on a weekly basis.
The Bottom Line
The trend of tying a famous individual's name to your investment product looks like it might be here to stay. Keep in mind that in the case of BOON, Pickens will not be involved in the operation of the fund. He's simply lending his name to the product since it will be using his long-held philosophy on energy investing. Licensing a popular individual's name adds instant attention to a ETF, an advantage that providers will no doubt look to leverage in the future. Whitford's new fund, while combining two popular smart beta strategies in a unique way, nonetheless has a long road ahead if it hopes to gain traction in the crowded momentum space. The Davis fund looks like a fairly ordinary international stock ETF.
Sign up for ETFdb Pro and gain access to more than 50 all-ETF model portfolios, each of which is backed by an unique investment thesis.