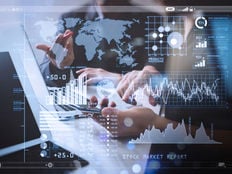 Bumpy U.S.-China trade negotiations going awry can certainly send foreign markets spiraling in the wrong direction, but it doesn't mean investors should avoid them entirely. However, there may be a better way to approach emerging markets rather than relying on traditional cap-weighted indexes, which tend to focus on the largest names and buy every constituent in that universe. Investors can exercise more due diligence with nuanced ETF strategies, such as VictoryShares Emerging Markets Volatility Weighted ETF CEZ (CEZ ) or VictoryShares Emerging Markets High Dividend Volatility Weighted ETF CEY (CEY B+).
Focusing on domestic stocks has been the default play for investors during the historic, decade-long bull run, but extreme year-end volatility, especially among companies with the highest valuation, provided a reminder that opportunities abroad could be an attractive alternative.
Emerging markets struggled in 2018 but there are still many intriguing opportunities abroad, especially if China and the U.S. settle their trade differences. Thus far in 2019, investors are starting to realize the potential of EM.
"Emerging market equities have seen significant inflows this year relative to other ETF asset classes," said Mannik Dhillon, President of VictoryShares and Solutions for Victory Capital Management. "We think it's a function of investors beginning to realize the compelling valuations relative to developed market equities."
When picking a fund that offers broad exposure to emerging markets, investors who use a market-cap weighted strategy are typically exposed to only the largest companies, which might not be fully representative of emerging markets as a whole. As such, investors may be missing out on the full diversification benefits and potential upside of companies that don't dominate a cap-weighted index.
In the case of CEZ, it seeks to track the performance of the Nasdaq Victory Emerging Market 500 Volatility Weighted Index with a focus on securities weighted by their risk rather than traditional market capitalization weighting. This is a testament to VictoryShares' push for innovation, which is a necessity in today's ETF marketplace that boasts over 2,000 ETFs.
---
Content continues below advertisement