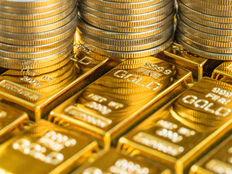 The Dow could record its fifth straight losing session today, but defensive-minded investors are taking action through gold, other precious metals and miners.
The Dow fell as much as 200 points following weaker-than-expected employment data from the Labor Department as the U.S. economy added 20,000 jobs in February, falling well below a Dow Jones poll of economists who were expecting 180,000. It marked the weakest month of job creation since September 2017, stoking more fears of a global economic slowdown.
"February's anemic 20,000 new jobs will inevitably exacerbate widespread fears of slowing economic growth, making it harder to be optimistic about corporate earnings," said Alec Young, managing director of global market research at FTSE Russell. "All in all, there's little in this report to excite investors."
The S&P 500 fell 0.46 percent and the Nasdaq Composite declined 0.45 percent.
Amid the drop in the major indexes, defensive plays were abound in precious metals, particularly gold. The SPDR Gold Shares (GLD A-) gained 0.95 percent on Friday while the cost-effective option, SPDR Gold MiniShares (GLDM ) , gained 0.78 percent.
Gold prices hit a low of $1,280.91 on Thursday, which almost touched a five-week low for the precious metal earlier this week. U.S. gold futures gained 0.6 percent as more investors are looking to stem the tide with safe-haven assets should a global economic slowdown materialize.
"We are seeing a bit of short-covering on a Friday ahead of the non-farm payroll numbers from America," said David Govett, head of precious metals at Marex Spectron.
"The expectation is for a slowdown (in the jobs data), and if that happens it is certainly a bullish signal for gold only because it is slightly bearish for the dollar," said Govett. "If the numbers are in line or worse-than-expected, gold could rally above $1,300."
Traders were also quick to jump on miners as the VanEck Vectors Gold Miners (GDX B+) gained 1.19 percent. For the non-risk-averse, the Direxion Daily Jr Gold Miners Bull 3X ETF (JNUG B-) rose 5.87 percent and the Direxion Daily Gold Miners Bull 3X ETF (NUGT B-) gained 3.68 percent.
"We think gold prices are going to continue to go higher on the back of a weakening dollar," said Natixis analyst Bernard Dahdah. "Growth in the U.S. is going to slow as the country has reached full employment and productivity is very high so there isn't much space for growth… And we are coming to an end of the Federal Reserve's rate cycle which should weaken the dollar further."
For more market trends, visit ETF Database.
---
Content continues below advertisement