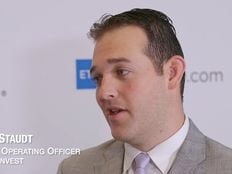 In a quickly developing world, investors are always on the look out for the next big thing, and through an ETF strategy, people can now target technological disruptors.
"We focus solely on disruptive innovation, and it certainly has been an exciting period of time to have that technologically enabled focus for the funds," said Tom Staudt, Chief Operating Officer for ARK Invest, at Inside ETFs.
---
Content continues below advertisement
For example, ARK Invest's flagship ARK Innovation Fund (ARKK B+) seeks to invest in the cornerstone companies taken from healthcare, technology and industrial sectors that focus on investing in disruptive innovation. Such companies may include ones that benefit from big data, cloud computing, cryptocurrencies, the sharing economy, genomic sequencing, molecular medicine, agricultural biology, 3D printing, energy storage, and autonomous vehicles.
The actively managed fund includes companies that merge healthcare with technology and capitalize on the revolution in genomic sequencing. These companies try to better understand how biological information is collected, processed, and applied by reducing guesswork and enhancing precision; restructuring health care, agriculture, pharmaceuticals and enhancing our quality of life.
The technology component focuses more in the next generation of internet names. These tech companies benefit from the shifting bases of technology infrastructure to the cloud, enabling mobile, new and local services, such as companies that rely on or benefit from the increased use of shared technology, infrastructure and services, internet-based products and services, new payment methods, big data, the internet of things, and social distribution and media.
Lastly, the industrial exposure covers a so-called new industrial revolution or advances in autonomous vehicles, robotics, 3D printing, and energy storage technology that are enhancing productivity, reducing costs, and transforming the manufacturing landscape.
"It's the disruptors – the technology that's seeping into every sector of the economy and really changing the traditional economic landscape," Staudt added.
ARK Invest also recently came out with the ARK Fintech Innovation ETF (ARKF B-) to help ETF investors capitalize on the burgeoning fintech industry that provides innovative financial solutions in a digital age. ARKF invests in equity securities of companies that ARK believes are shifting financial services and economic transactions to technology infrastructure platforms, ultimately revolutionizing financial services by creating simplicity and accessibility while driving down costs.
The portfolio managers define "Fintech innovation" as the introduction of a technologically enabled new product or service that potentially changes the way the financial sector works, including companies that are engaged in Transaction Innovations 29%, Blockchain Technology 12%, Risk Transformation 15%, Frictionless Funding Platforms 19%, Customer Facing Platforms 17% and New Intermediaries 8%.
For more ETF-related commentary from Tom Lydon and other industry experts, visit our video category on ETF Trends.