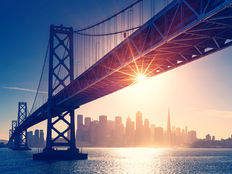 With the markets in recovery mode, the middle-capitalization category and related ETFs have been outperforming the S&P 500 as investors look to a cheap area to jump back into.
Among the largest mid-cap ETFs by assets, the iShares Core S&P Mid-Cap ETF (IJH A-) rose 14.8%, Vanguard Mid-Cap ETF (VO B) gained 15.3% and SPDR Mid-Cap 400 (MDY B) increased 14.2% so far this year, according to performance data from Yahoo Finance.
Mid-cap stocks are now less expensive than smaller and larger peers after the stock market's fourth quarter sell-off, the Wall Street Journal reports.
The S&P MidCap 400 index was trading at 14.3 times projected earnings over the next 12 months, compared to 18.2 times at the end of 2017, according to FactSet data. Meanwhile, the S&P 500 and the SmallCap 600 were hovering around 15.1 and 15.3 times forward earnings, respectively.
"Midcaps are the orphaned index," Mark Fried, president of TFG Wealth Management, told the WSJ. "When we sit down with clients and look at their 401(k)s, it's one of the areas that we see the least used, but it should be apart of it. Now is a good opportunity since that part of the market is down."
Mid-caps have greater exposure
Susan Schmidt, head of U.S. equities and portfolio manager at Aviva Investors, said that mid-caps have underperformed their larger and smaller peers for the past year and are expected to generate lower earnings growth due to the composition of the index. Specifically, mid-caps have greater exposure to industrial and financial stocks, two areas that have taken a beaten during the trade tensions and slowing global economy. However, she argued investors should still take a second look due to the cheap valuations.
---
Content continues below advertisement
"It becomes harder for companies to post the same growth rate as they get bigger," Schmidt told the WSJ. "That's why small-caps typically have higher earnings estimates, because we expect higher growth out of them."
Related: As China ETFs Surge in 2019, 'CNXT' is Up 33% YTD
Over a long-term horizon, though, mid-caps have outshined the competition. Since 1996, the S&P MidCap 400 generated an average annual return of 10.4%, compared to 7.3% for the S&P 500 and 9.7% for the SmallCap 600.
"You're certainly getting a better risk-adjusted return in the midcap space than in large or small when you factor in both volatility as well as long-term returns," Ryan Kelley, portfolio manager at Hennessy Funds, told the WSJ.
For more information on middle capitalization stocks, visit our mid-cap category.
Have you signed up for the ETF Trends & ETF Database Virtual Summit on Wednesday, April 17? It's complimentary for financial advisors (earn up to 5 CE Credits)! Register now to learn about alternative and thematic tools to better diversify client portfolios.