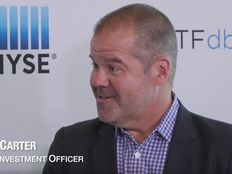 As more investors look to developing economies for greater growth and enhance returns, many are looking to a consumer sector ETF that focuses on the 'emerging people.'
"The thing that's emerging are the people. I mean that's if you really boil it down, it's the consumers that are coming online, and you know this is 85% of the world's people, and as they move on up, they want more and better stuff," Kevin Carter, Chief Investment Officer for EMQQ, said at Inside ETFs.
ETF investors can tap into the consumer spending potential of the rising middle class in the growing emerging markets through the Emerging Markets Internet & Ecommerce ETF (EMQQ C+). EMQQ provides exposure to the growing emerging market consumer sector, notably those related to online retailers or the quickly expanding e-commerce industry.
"The way we consume has changed," Carter added, referring to the increased reliance on online retail or e-commerce. E-commerce companies are enabling emerging market consumers to leapfrog into the new way of consumerism in the developing world.
To be included within its underlying index, companies must derive the majority of their profits from E-commerce or Internet activities and further includes search engines, online retail, social networking, online video, e-payments, online gaming and online travel.
EMQQ primarily focuses on the internet and e-commerce sectors of the developing world, helping investors capitalize on the growth of consumption in emerging markets, which represents a significant growth opportunity as more than a billion people are expected to enter the consumer class in the coming decades.
---
Content continues below advertisement
For more ETF-related commentary from Tom Lydon and other industry experts, visit our video category on our sister site ETFtrends.com.