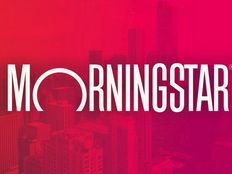 The financial industry's top minds will come together at the annual Morningstar Investment Conference this Wednesday through Friday at the McCormick Place Convention Center in Chicago.
More than 100 organizations including asset management firms, fintech companies, and media groups will be in attendance.
Morningstar CEO Kunal Kapoor said they continue to believe there's never been a better—or more important—time for great advice, particularly as investors are demanding that advice providers deliver more value to earn their fees.
"For 35 years, Morningstar has upheld our commitments to independence and putting investors first," Kapoor said. "Our conference agenda addresses the industry's most pressing topics, from the complex world of fixed-income, to climate-aware investing, to the latest conversations about retirement and healthcare."
Day one will begin with several workshops for Morningstar clients, followed by an overview of ETF and Passive Investments Research Highlights from some of the team members at the independent investment research firm.
Some of the most exciting topics for the first morning of the conference include a deep-dive into retirement, "(Re)Modeling the Cost of Retirement" with David Blanchett, Ph.D., CFA, CFP®, Morningstar, a look at managing investment risk, entitled, "Investment Factor Exposures Beyond Size and Value," by Timothy Strauts from Morningstar, an analysis of investment opportunities, slated as "Our Best Investment Ideas Among Stocks and Funds," which will include Morningstar moderators Tom Lauricella, Russel Kinnel, and Ali Mogharabi.
In the afternoon of day one, the session "Sustainability Research, Data, and Ratings Innovation" with Jon Hale, Ph.D., will examine some tools for fixed income investing with Matthew Maenke and Jeff Westergaard of Morningstar, "Tools for Choosing the Best 529 Plans, HSAs and Target-Date Series" with Leo Acheson, Jeff Holt, and Madeline Hume of Morningstar, and finally offers a keynote that discusses "Distortion, Divergence and Diversification: What Investors Need to Know About the State of the Global Economy and Fixed Income Markets", by Sonal Desai, CIO of The Franklin Templeton Fixed Income Group.
Desai's keynote should be particularly interesting as it highlights, "Slowing global growth, trade tensions and geopolitical risks have fueled market fears of an impending recession and pushed major central banks towards a more cautious stance."
According to Morningstar, Dr. Sonal Desai, CIO of Franklin Templeton Fixed Income Group, will discuss whether fixed income markets are diverging too soon from fundamentals, and how to best identify investment opportunities in the current environment.
On day two, the conference takes a look at emerging markets, index funds, retirement, corporate debt, rates and credit spreads, dividends, and climate and gender.
Finally, day three will explore psychology during "The Wisdom of Crowds and the Fallibility of Markets" with Daniel Needham, President & CIO, Morningstar Investment Management, LLC, a look at healthcare innovation, factors in fixed income, and an exploration of date and analytics in decision-making.
Conference attendees will again be able to participate in a virtual reality experience, this time to consider a client's preference for environmental, social and governance (ESG) investing, an area with growing investor interest, and to assess how investment decisions may affect the climate. Conference goers can also participate in the interactive Innovation Lab, to preview upcoming developments in Morningstar's products and research and provide feedback in user testing groups.
For more information on the conference, visit https://www.morningstar.com/company/MIC.
---
Content continues below advertisement