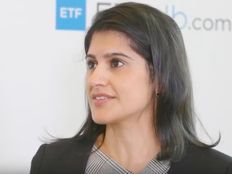 With the U.S. in the late stages of the market cycle, more investors are looking into smart beta or factor-based ETFs to better manage risks while still staying in the game.
"Late cycle. We need to keep our clients invested," Yasmin Dahya, Executive Director, Head of Americas Investment Specialist Team, Beta Strategies Group at J.P. Morgan Asset Management, said at Inside ETFs 2019.
"While we are optimistic about growth and owning equities, we've got to be realistic about our clients stay through that. So for the most part, I think a multi-factor solution is just that. What it's about is improving upon the opportunities that exist in market-cap to better deliver a risk and/or return profile," she added.
For example, Dahya highlighted the JPMorgan Diversified Return International Equity ETF (JPIN A-) as a strategy that provides market exposure but better risk-adjusted returns since its launch.
JPIN leverages J.P. Morgan's experience in quantitative research and portfolio management, employing a team approach led by Dr. Yazann Romahi, CIO of Quantitative Beta Strategies.
The ETF tracks the JP Morgan Diversified Factor International Equity Index, which utilizes a rules-based approach combining risk-weighted portfolio construction with multi-factor security screening based on value, quality and momentum factors. Specifically, it may incorporate multi-factor screens for value based on as dividend yield and book-to-price; momentum based on return-on-equity; and quality based on total return divided by the standard deviation of daily local returns over one year.
Watch the full interview between ETF Trends CEO Tom Lydon and Yasmin Dahya
---
Content continues below advertisement
For more ETF-related commentary from Tom Lydon and other industry experts, visit our video category on ETF Trends.