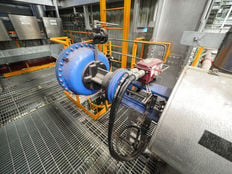 By Grant Engelbart, CFA, CLS Investments
It all started on a fine August day in 2006. Bees were buzzing, China was surging, NINJA loans were flowing, and oil had just come off an impressive surge and was poised for new records. Exchange-traded products had been around for more than 15 years but had yet to reach their more recent levels of rapid growth. Investors wanted exposure to high-flying oil prices, and they wanted better tax treatment. In came Barclay's, ready to raise the exchange-traded note (ETN) industry to new heights. The Barclays iPath S&P GSCI Crude Oil Total Return Index ETN (original ticker OIL) was born.
It didn't take long before assets began to build in the product – helped, no doubt, by "peak oil" worries and insatiable demand from the rest of the world. Additional ETNs were issued throughout 2008 and 2009, and that was met with increased volumes in the product. (See issuance level in orange and net assets in green on chart below. More on this later.)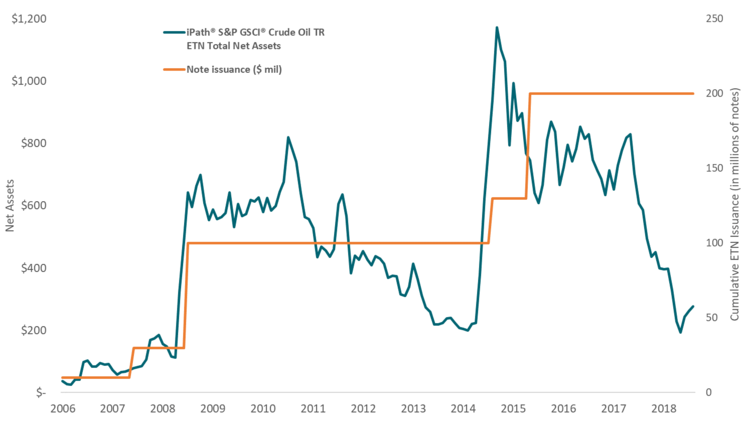 ---
Content continues below advertisement
The 2008 financial crisis brought immense volatility and drama to the world, but it also provided a ripe platform for the growth of oil prices and, subsequently, the OIL ETN. Prices shot higher, and assets skyrocketed in the note, which quickly became one of the top ways to play the oil market.
Fast forward to 2012. Oil prices had found a range between $80-$100/barrel once again. As the year wore on, volatility started to decline across asset classes, and WTI crude could taste triple-digits once again. Under the surface, some interesting changes started to happen.
First, oil futures started to trade in contango, which means the front month futures contract (that OIL tracks) is lower than the next several months' contract price. Certain ETFs in the market, such as DBO, DBE, and DBC, buy futures in months further out in order to combat this. As a result of having to buy futures at higher prices each month, the index that OIL tracked was losing value on what's called "the roll." "Roll-optimized" ETFs were gaining market share, and OIL was losing assets.
Second, the OIL ETN is part of an archaic first-generation product that calculates fees based on a special NAV that accrues fees over time from the inception of the product. This starts to eat away at returns if the product goes down over time, which OIL definitely has since the heyday of oil prices pre-financial crisis. In one scenario in the product prospectus, the provider illustrates a hypothetical example where OILNF underperformed its index by almost 6%! At least they warned us. To most investors, this is hard to figure out because the NAV that OIL tracks reflects the fee, but the index the NAV tracks does not. Either way, investors were starting to notice that OIL was lagging oil prices. Clear as mud?
Click here to read the full article on ETF Trends.