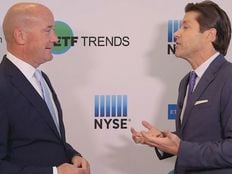 Market traders are getting high off marijuana investments, and many are looking to exchange traded funds as a way to tap into this emerging asset class.
"This is a developing asset class," Tim Seymour, Founder & CIO, Seymour Asset Management, said at Inside ETFs 2019.
We are seeing "some of the same parallels in the asset class as I've seen when investing in Russian in the mid-90s, or Brazil in 2001, or early stages in the commodities super-cycle are at work here," he added.
To help investors gain exposure to this emerging asset category, Amplify ETF Trust has partnered with Seymour in filing for the actively managed Amplify Seymour Alternative Plant Economy ETF, according to a Securities and Exchange Commission exemptive relief filing. No ticker or management fee was included.
The Amplify Seymour Alternative Plant Economy ETF tries to invest in the equity securities of companies engaged in cannabis and hemp-related activities selected by the Fund's investment adviser, or Seymour.
The emerging cannabis and hemp ecosystem include one of three classifications, which includes Cannabis/Hemp Plant (Pharmaceuticals/Biotechnology, Cultivation & Retail, Hemp Products and Cannabis-Infused Products); Support (Agricultural Technology, Real Estate and Commercial Services); and Ancillary (Consumption Devices/Mechanisms, Investing & Finance, Technology & Media and Other Ancillary). Additionally, the fund includes liquidity screens.
A company's activities must be legal in the country where it is incorporated, as well as in the country or countries where its operations are conducted in order to be eligible for inclusion in the Fund. Consequently, the fund will not include any company that engages in the cultivation, production or distribution of marijuana or products derived from marijuana for medical or non-medical purposes in a particular country, including the United States, unless it becomes legal.
Watch the full interview between ETF Trends CEO Tom Lydon and Tim Seymour:
---
Content continues below advertisement