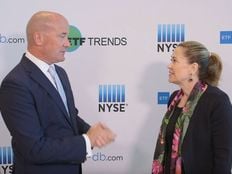 Among the more important aspects in the regulatory landscape today, the SEC is enacting new rules in the way ETFs can hit the markets.
"The (new) ETF rule is going to be important for small- and mid-sized advisors who want to move into the ETF space because it is very likely to just, you know, bring down one hurdle and lower the cost to market entry. It is also going to be import, actually, for large advisors who have not yet gotten into the space," Stacy Fuller, Partner at K&L Gates, said at Inside ETFs 2019.
The U.S. securities regulator last year unveiled a proposal to allow issuers to launch vanilla ETFs without first seeking approval from the regulator. The move would help boost competition and innovation by lowering the barriers to entry.
According to the SEC, rule 6c-11 would "exempt exchange-traded funds ('ETFs') from certain provisions of [the Investment Company Act of 1940] and our rules." In addition, it "would permit certain ETFs to begin operating without the expense and delay of obtaining an exemptive order from the Commission." Thus, with the new regulation, ETFs would be allowed to enter the market much more quickly and easily.
Previously, issuers hoping to propose a new ETF must first acquire SEC permission, a process known as exemptive relief, before selling funds. Such a process has inadvertently given some firms a competitive advantage, which in turn has prompted lobbyist activity for years.
Watch the full interview between ETF Trends CEO Tom Lydon and Stacy Fuller:
---
Content continues below advertisement