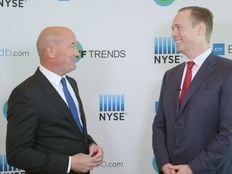 Financial advisors who are looking to enhancing their practices can incorporate exchange traded fund model portfolios to potentially streamline their businesses.
"Think of us as that OCIO – just like the endowments or those institutions that outsourced CIO. We're the OCIO for RIAs that want to focus on simplifying the scale and their practice. So these ETF model portfolios bring those solutions," Jeff Kilburg, CEO, KKM Financial, said at Inside ETFs 2019.
Specifically, KKM has partnered up with Nasdaq Dorsey Wright to build risk-based ETF models to help investors achieve a Conservative, Moderate, Growth or Aggressive Growth investment strategy.
The ETF Risk-Based Models powered by Nasdaq Dorsey Wright provide a core multi-asset total return strategy implemented only with ETFs, are globally diversified allocation with exposure to a broad array of assets and provide exposure across the risk spectrum to suit a range of objectives.
Fueling demand for ETF managed portfolios, clients are actively asking multi-asset managers to increase ETF allocations in their portfolios. Managers are expanding their investment base with ETFs to meet specific goals. More active managers are also adopting ETFs due to the many benefits of the investment vehicle, such as low fees, deep liquidity, tax efficiency and as replacements for futures and to access broad asset classes.
ETF managed portfolios are investment strategies that hold more than 50% of assets invested in ETFs and represented one of the fastest growing segments in the separate accounts space. Specifically, ETF managed portfolios offer three major investment themes: tactical, strategic and hybrid mix. The tactical offerings provide short-term plays to capitalize on investment opportunities that are forming, whereas the strategic play provides long-term allocation across sectors and asset classes. Additionally, the hybrid mix includes a combination of tactical and strategic elements.
Watch the full video between ETF Trends CEO Tom Lydon and Jeff Kilburg:
---
Content continues below advertisement
For more ETF-related commentary from Tom Lydon and other industry experts, visit our "video category on ETF Trends":video category on ETF Trends.