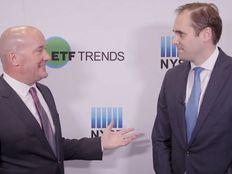 With thousands of ETFs to choose from, financial advisors are turning to institutional type allocators to help them with selection and allocation through ETF model portfolios.
"There are over 2,000 U.S.-listed ETFs these days, so there's just a ton of choice out there. One thing that ETF model portfolios absolutely do is allow advisors to focus on all of the different things within their book of business outside of portfolio management that we really know clients love and come to expect from them – things like estate planning, things like financial planning," Ryan O'Connor, Head of Model Portfolios, Goldman Sachs Asset Management, said at the Morningstar Investment Conference.
ETF managed portfolios are investment strategies that hold more than 50% of assets invested in ETFs and represented one of the fastest growing segments in the separate accounts space. Specifically, ETF managed portfolios offer three major investment themes: tactical, strategic and hybrid mix. The tactical offerings provide short-term plays to capitalize on investment opportunities that are forming, whereas the strategic play provides long-term allocation across sectors and asset classes. Additionally, the hybrid mix includes a combination of tactical and strategic elements.
Earn 1 CE Credit! Webcast: Building Blocks for Your Fixed Income Portfolios
GSAM model portfolios are managed by Goldman Sachs' multi-asset investing team, Global Portfolio Solutions. They design custom portfolios for some of the world's largest investors and have done so for over 20 years. Their model portfolios, comprised primarily of GSAM funds, include a mix of traditional stocks and bonds with asset classes including emerging markets, real estate and alternatives. The goal is to maximize return and offset risk, according to GSAM.
Watch the full interview between ETF Trends CEO Tom Lydon and Ryan O'Connor:
---
Content continues below advertisement