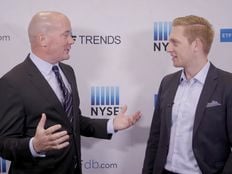 New disruptive technologies are changing the way we interact with the world, providing growth opportunities for exchange traded fund investors whom are looking to diversify into these quickly developing segments.
"We break it down to five innovative platforms that we've identified in our research – that is robotics energy, storage, blockchain technology, DNA sequencing and artificial intelligence. Those five major innovation platforms drive further innovation, and we do top-down and bottom-up research to then identify where's technology bringing us. Is the top technology ready for prime time and ready to provide growth for our investors?" Sebastian Benkert, CMO, ARK Invest, said at the Morningstar Investment Conference.
As a way to access disruptive innovations through a targeted fund strategy, ARK Invest offers a suite of actively managed ETFs focused specifically on the main innovative segments, including the ARK Industrial Innovation ETF (ARKQ B), ARK Web x.0 ETF (ARKW C+), ARK Genomic Revolution Multi-Sector Fund (ARKG A-) and the broader ARK Innovation Fund (ARKK B+).
ARKQ captures the converging industrial and technology sectors, capitalizing from autonomous vehicles, robotics, 3D printing, and energy storage technologies.
The ARK Web x.0 ETF targets next-gen internet innovations like artificial intelligence, cloud computing, cryptocurrencies, and blockchain technology.
The ARK Genomic Revolution Multi-Sector ETF tracks the convergence of tech and health care.
The ARK Innovation ETF is a catch-all for or a broader theme based on the investments across all of the firm's innovation themes.
Watch the full interview between ETF Trends CEO Tom Lydon and Sebastian Benkert:
---
Content continues below advertisement