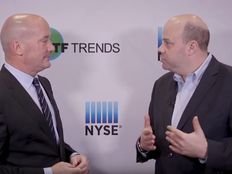 ETFs have become a go-to investment vehicle for many investors across a range of backgrounds, revealing the shifting trends in investors' habits and thoughts in a changing market environment.
"One of the things is how popular fixed-income ETFs have been to start the year," Todd Rosenbluth, Head of ETF & Mutual Fund Research, CFRA, said at the Morningstar Investment Conference. "We saw a bit of a downturn in the equity markets heading into 2019. People were moving into safety, but fixed-income is really punching above its weight, and we've seen a number of firms gathering assets with both lower risk and higher risk products. That's quite compelling to us."
There are now about 393 U.S.-listed fixed-income ETFs on the market with $732.1 billion in assets under management, according to ETF Database data.
Among the most popular ETF plays this year, U.S. Treasury-related ETFs remain among the top picks, with iShares 7-10 Year Treasury Bond ETF (IEF B) seeing $5.5 billion in net inflows, iShares 20+ Year Treasury Bond ETF (TLT B-) attracting $4.5 billion and iShares U.S. Treasury Bond ETF (GOVT A-) adding $4.3 billion.
Investors also shifted back into corporate and international debt, with Vanguard Intermediate-Term Corporate Bond ETF (VCIT A) bringing in $5.2 billion and the iShares iBoxx $ Investment Grade Corporate Bond ETF (LQD A) attracting $4.3 billion while Vanguard Total International Bond ETF (BNDX A-) saw $4.5 billion in inflows.
Watch the full interview between ETF Trends CEO Tom Lydon and Todd Rosenbluth
---
Content continues below advertisement