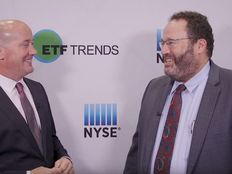 ETFs have hit the financial scene as cheap, easy-to-use, index-based products. While the investment vehicle is largely passive in nature, it does not mean you are leaving the opportunity for outperformance off the table.
"You can have a passive fund, but you have managers and advisors whom are actively managing passive funds. So, it's passive investment, but it's 'actively passive,'" Chuck Jaffe, Syndicated Financial Columnist, Host of "Money Life with Chuck Jaffe", said at the Morningstar Investment Conference.
Jaffe explained how traditional actively managed mutual funds would have a spokesperson or money manager backing up their active fund strategy or sell the audience on how they provide alpha. On the other hand, index-based ETF providers would just lay out their products to investors and let the audience figure out how to generate alpha through a passive ETF strategy.
Additionally, when it comes to ETFs, individual investors are also left with the option to either act as a do-it-yourself kind of investor or leaving the money up to an ETF-centric portfolio manager.
---
Content continues below advertisement
For more ETF-related commentary from Tom Lydon and other industry experts, visit our video category on ETF Trends.