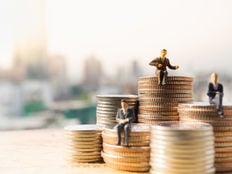 Franklin Templeton has expanded its active fixed income ETF lineup with the launch of its Franklin Liberty US Core Bond ETF (FLCB A) today on NYSE Arca. This fund seeks to provide investors with diversified core fixed income exposure.
FLCB is an active ETF seeking total return through the bottom-up fundamental bond selection and top-down sector allocation.
Additionally, FLCB will be seeking a tracking error of 50-100 basis points to the Bloomberg Barclays US Aggregate Bond Index.
"We believe active management is critical for achieving long-term returns and managing investment risk, particularly in multi-sector investment grade fixed income," said Patrick O'Connor, global head of ETFs for Franklin Templeton. "We are thrilled to launch FLCB, which can serve as a core, building block allocation in an investor's portfolio."
Putting in the Research
The Franklin Templeton research teams for quantitative and fixed income review issuers and assess risks from many perspectives. The result is an all-inclusive viewpoint on each potential investment.
David Yuen, SVP, head of quantitative and multi-sector strategies, Amy Cooper, VP, portfolio manager, Patrick Klein, SVP, portfolio manager, multi-sector strategies, and Tina Chou, VP, portfolio manager with Franklin Templeton Fixed Income Group will manage FLCB.
"The investment team has chosen to manage this fund with a low tracking error to the Bloomberg Barclays U.S. Aggregate Bond Index but has the flexibility to derive alpha through active sector allocation and security selection, providing a truly active core fixed income ETF," added O'Connor.
This article originally appeared on ETFTrends.com
---
Content continues below advertisement