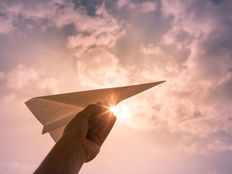 Columbia Threadneedle Investments expanded its strategic beta ETF suite on Wednesday with the launch of two new ETFs that take on a research twist.
The Columbia Research Enhanced Core ETF (RECS) and the Columbia Research Enhanced Value ETF (REVS) offer investors and advisors' cost-efficient access to the firm's quantitative investment research strength.
RECS and REVS are designed to outperform the Russell 1000 Index and Russell 1000 Value Index by marrying proprietary investment research with market-capitalization weighting. The idea is for the ETFs to optimize equity exposure by removing unfavorably rated stocks from the benchmark.
Marc Zeitoun, Head of Strategic Beta for Columbia Threadneedle, told ETF Trends its pair of new ETFs infuse their best investing ideas and research.
The result? Enhanced passive investing in the strategic beta space.
"Many investors recognized the limitations of traditional benchmark investing and are looking for a more thoughtful approach to passive investing," Zeitoun said. "RECS and REVS were designed with the benchmark investor in mind. They are built on the strength of our quantitative research and the active insights that underly our strategic beta solutions."
The purpose of this approach is to address the common concern voiced in a recent survey from Columbia Threadneedle, which found 65% of financial advisors feeling frustrated about not being able to remove underperforming stocks from passive ETFs' indices.
Tracking Research Enhanced Index
Individually, RECS seeks to track the company's Beta Advantage Research Enhanced US Equity Index, which consists of 325 to 400 large-cap US growth stocks and value companies. REVS tracks the newly created Beta Advantage Research Enhanced US Value Index, which includes 250 to 290 large-cap US value companies stocks.
Additionally, RECS and REVS are sector neutral, relative to their respective Russell index. The indices the ETFs will be tracking are rebalanced semi-annually.
"We are offering optimized equity exposure, with the potential for enhanced returns, at a price comparable to funds that track broader benchmarks," says Zeitoun. "With the launch of these two ETFs, we continue to enhance our strategic beta offering with strategies powered by our expertise and insight."
This article originally appeared on ETFTrends.com
---
Content continues below advertisement