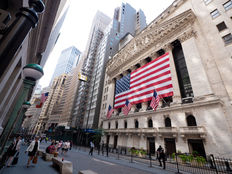 Invesco expanded its BulletShares suite on Wednesday with the debut of nine new defined maturity muni ETFs (2021 through 2029 ladder) with exposure to municipal debt issued by state and local governments.
BulletShares Municipal Bond ETFs seek to offer investors a passive means to access the tax-free yield of quality municipals bonds through a liquid product with a fixed date of maturity.
The nine ETFs launching are as follows:
Invesco BulletShares 2021 Municipal Bond

ETF

(

BSML

)
Invesco BulletShares 2022 Municipal Bond

ETF

(

BSMM

)
Invesco BulletShares 2023 Municipal Bond

ETF

(

BSMN

)
Invesco BulletShares 2024 Municipal Bond

ETF

(

BSMO

)
Invesco BulletShares 2025 Municipal Bond

ETF

(

BSMP

)
Invesco BulletShares 2026 Municipal Bond

ETF

(

BSMQ

)
Invesco BulletShares 2027 Municipal Bond

ETF

(

BSMR

)
Invesco BulletShares 2028 Municipal Bond

ETF

(

BSMS

)
Invesco BulletShares 2029 Municipal Bond

ETF

(

BSMT

)
Invesco Global Head of ETFs Dan Draper said its new BulletShares Municipal Bond ETF suite was in response to continued investor interest in accessing new areas of fixed income through the innovation of an ETF wrapper.
"Since Invesco began managing the BulletShares ETFs there has been 34% percent growth in the suite 1, as investors continue to show enthusiasm for transparent 2 and liquid fixed income exposure through a cost-effective 3 alternative to individual bonds," Draper said.
By organizing quality municipal bonds into an ETF based on their effective maturity date investors have the opportunity to precisely control municipal bond duration 4 exposure. BulletShares Municipal Bond ETFs can target a unique entry point on the municipal bond debt yield curve. Callable municipal bonds will be added to the maturity year they can be called, which is unique to the BulletShares methodology.
Tim Urbanowicz, Director, Fixed Income ETF Strategy at Invesco, said current global conditions may have complicated the search for yield.
"These conditions have also made an attractive case for municipal bonds, which offer a tax-advantaged way to access yield," Urbanowicz said. "By packaging municipal bonds of the same expiry into the BulletShares ETF, Invesco offers investors a diversified means to target precise spots on the municipal bond yield curve by holding a basket of bonds to maturity." 5
The nine new ETFs offer investors easily accessible means of building or managing a specific maturity laddered income stream focused on municipal bond debt. BulletShares offer the potential for monthly income and a cash distribution at the fund's termination. 6
With the inclusion of the newest BulletShares ETFs, Invesco now offers over 30 defined maturity ETFs with defined years of maturity ranging from 2019 to 2029. The BulletShares ETF Suite is comprised of 10 Corporate Bond ETFs, eight High Yield Corporate Bond ETFs and four Emerging Markets Debt ETFs that each hold a portfolio of bonds that all mature in a target year. The new ETFs will track the Invesco BulletShares USD Municipal Bond Indexes 7 and will rebalance monthly 8 and is reconstituted twice a calendar year9
Invesco also offers the BulletShares® ETF Bond Ladder Tool to provide a convenient way to build a hypothetical laddering strategy with BulletShares, based on maturity and credit criteria. The Tool uncovers specific BulletShares ETFs that enable an investor to build a customized fixed income portfolio tailored to a specific maturity profile, risk preference and investment goal.
For more fixed income news and strategy, visit our Fixed Income Channel.
1 As of September 12, 2019
2 ETFs disclose their holdings daily.
3 Since ordinary brokerage commissions apply for each buy and sell transaction, frequent trading activity may increase the cost of ETFs.
4 Measure of the sensitivity of the price of the bond.
5 Diversification does not ensure a profit or eliminate the risk of loss.
6 These ETFs do not seek to return any predetermined amount at maturity, and the amount an investor receives may be worth more or less than their original investment. In contrast, when an individual bond matures, an investor typically receives the bond's par (or face value).
7 Invesco BulletShares USD Municipal Bond Indexes are designed to provide maturity-targeted exposure to the US dollar-denominated investment grade municipal bond market. An investment cannot be made directly in an index.
8 Rebalance of the index will take place monthly on the last calendar day of each month.
9 Reconstitution of the index will take place twice a year on the last day of June and December.
---
Content continues below advertisement