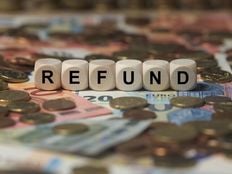 Financial technology company SoFi is offering refunds to investors hit by capital gains taxes following the change of replacing Vanguard funds with their proprietary ETFs in certain portfolios managed by their robo-adviser.
While SoFi maintains the moves were made with the clients' best interests in mind, they will still offer the refunds to those investors affected by the changes, which were done earlier this year.
"In keeping with our commitments to put your interests first and to help you get your money right, we decided to take this action in an attempt to put you in the same tax position you would have been in had we not made the change," the email said, according to a report from Investment News.
Whether the refund offer was made as a result of demands by the Securities Exchange Commission (SEC) or if SoFi did it as a precautionary measure is not known, according to the Investment News report.
"One more thought is that the tax hit is just one added cost of being transferred into their own funds. There are also the costs of buying, selling, and holding the new funds," said Micah Hauptman, a financial services counsel at the Consumer Federation of America. "While the SoFi ETFs are free now, they are only free because they have an expense waiver. Once the expense waiver runs out, investors may be paying much more than they otherwise would be if they stayed in the funds they were in."
SoFi Stadium
The refund offer comes amid the recent announcement of a 20-year deal to call the new Los Angeles football stadium "SoFi Stadium." Per a CNBC report, SoFi will "become an official partner of both LA football teams, as well as a partner of the performance venue and surrounding entertainment district. SoFi did not disclose how much it paid for the naming rights, but Venues Now and Fox Business, which reported earlier this year that a deal was in discussion, said it was a $400 million price tag."
"Combined with big marketing efforts, like this stadium deal, SoFi is trying to make itself into a household name and become consumers' one-stop-shop for financial services," said Backend Benchmarking head of research David Goldstone.
"Managers must balance the best interests of their clients with their own ambitious expansion goals and conflicts of interest inherent in selling proprietary products," Goldstone added.
This article originally appeared on ETFTrends.com
---
Content continues below advertisement