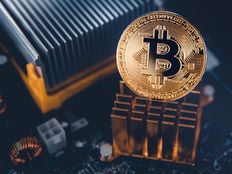 Bitcoin, the largest digital currency by market value, is slumping again, having tumbled below $8,000 on Thursday, a price level the cryptocurrency hadn't violated since June.
Bitcoin extended its recent slide just days after the Securities and Exchange Commission (SEC) again delayed a decision on a proposed ETF linked to the digital asset from Wilshire Phoenix. It's expected the commission will make a ruling on that fund sometime next year.
"Investors cited a variety of reasons for the slump that's seen Bitcoin lose close to 22% of its value since Friday," reports Bloomberg. "Some pointed to a lackluster reception to the first Bitcoin futures contracts that were offered by the Intercontinental Exchange Inc.'s Bakkt platform. Others pointed to the U.S. Securities and Exchange Commission delaying a decision on a Bitcoin exchange-traded product. Still, others said the expiration of CME futures contracts set to take place this week is causing turbulence."
Bitcoin Bottoms?
It's hard to shake off the fact that the cryptocurrency has been here before. After rallying to a high of roughly $20,000 in 2017, based on investors jumping on the bandwagon and trying to get rich quickly, the bubble finally burst, sinking the cryptocurrency to less than $4000 within just a year's time. Since the bitcoin boom in 2017, the world's largest cryptocurrency has dropped more than 60% from its high.
In 2018, bitcoin shed almost 80% of its value. Among the issues plaguing bitcoin last year were the ongoing unwillingness of U.S. regulators to approve a bitcoin-related ETF as well as data indicating that mainstream acceptance and adoption of the digital currency are declining.
The move below $8,000 could bring some concerning technical levels into play for bitcoin.
Related: Crypto Markets Evolving Despite Lack of a Bitcoin ETF
"Falling below the $8,000 level could mean Bitcoin would test its 200-day moving average support, which sits around $7,000. And according to the Trading Envelope Indicator, a technical tool that smooths moving averages to map out higher and lower limits, the coin has fallen below its lower band," according to Bloomberg.
Some crypto market observers actually believe a brief retest of the $6,000 level could be in play.
This article originally appeared on ETFTrends.com
---
Content continues below advertisement