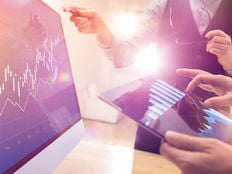 U.S. markets and stock ETFs were meandering about on Monday as traders weighed poor global economic data against comments on the high-level trade talks with China later this week.
On Monday, the Invesco QQQ Trust (QQQ B+) was up 0.5%, SPDR Dow Jones Industrial Average ETF (DIA B+) rose 0.3%, and SPDR S&P 500 ETF (SPY A) gained 0.3%.
Investors were slightly risk-off in early Monday trading after factory orders in Germany declined more-than-expected in August and confidence among Eurozone investors dipped to the lowest level in six years, the Wall Street Journal reports.
The Eurozone updates come a week after a gauge of U.S. factory activity declined to the lowest level in a decade, further fueling fears that economic growth is weakening around the world.
However, the risk-off sentiment was offset by comments from White House economic adviser Larry Kudlow, which helped assuage concerns over the outcome of scheduled trade talks with China later in the week, Reuters reports. Kudlow said it was possible that both sides could make progress during the talks in Washington and the United States was open to Beijing's proposals.
Tariff Concessions
Tariff concessions from both the United States and China have helped de-escalate a protracted trade war and add to hopes of a resolution.
"The market is going to be volatile until we get some news out of Washington. Everything, literally, depends on the tone around trade," Art Hogan, chief market strategist, at National Securities, told Reuters.
Related: China ETFs to Help Investors Target Emerging Opportunities
Nevertheless, Beijing remains increasingly reluctant to agree to a broad trade deal pushed by President Donald Trump. Lee Hardman, currency analyst at MUFG, warned that China may not be as willing to compromise as much as the Trump administration hopes.
"The U.S. would like a trade deal with China, a wide-ranging deal, but those demands look like they're unlikely to be accepted by China. Things like intellectual property rights and other structural issues like state subsidies look unlikely to be resolved," Hardman told the WSJ. "China may buy more agricultural goods but it's unclear whether or not that partial agreement will be a big enough win for the U.S."
The high-level trade talks will begin on Thursday.
This article originally appeared on ETFTrends.com
---
Content continues below advertisement