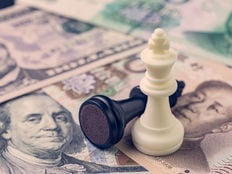 U.S. markets and stock ETFs stumbled Tuesday on growing concerns that trade negotiations with China could break down this week after the Trump administration moved ahead with capital limits to China and singled out a number of Chinese firms to be blacklisted.
On Tuesday, the SPDR Dow Jones Industrial Average ETF (DIA B+) fell 0.6% while the SPDR S&P 500 ETF (SPY A) dropped 0.8%.
The Commerce Department added 28 Chinese companies to an export blacklist, underscoring their role in Beijing's repression of Muslim minorities in northwest China, the Wall Street Journal reports.
Chinese Foreign Ministry spokesman Geng Shuang recommended the U.S. to withdraw the export blacklist and stated that "China will continue to take firm and strong measures to uphold its national sovereignty, our security and development interests."
Related: 3 Challenges with Low Volatility Approach Investments
China tones down expectations
In response to the move, South China Morning Post reported that China toned down expectations ahead of the high-level talks on Thursday and that the Chinese delegation could even leave Washington a day earlier than planned, Reuters reports.
"The headlines are painting a picture of a less optimistic tone to the trade talks this week," John Zaller, chief investment officer of MAI Capital Management, told Reuters. "Investors are not expecting a big deal or a small deal this week, but anything less than a tariff delay would be a pretty big disappointment for the markets."
"I don't think that we're going to see a grand deal," Jack Janasiewicz, a portfolio strategist at Natixis Investment Managers, told the WSJ, adding that a more likely conclusion would be "small victories" like an expansion of Chinese purchases of U.S. agricultural goods or withdrawal of threatened tariffs.
Looking further out, the markets are waiting on the third-quarter earnings season, which will begin next week. Analysts expect the worst quarterly profit performance since 2016, with S&P 500 companies earnings projected to slip nearly 3% year-over-year, according to IBES data from Refinitiv.
This article originally appeared on ETFTrends.com
---
Content continues below advertisement