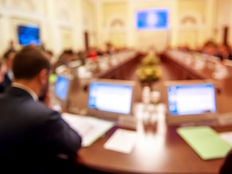 As more money flows into index-based stock mutual funds and ETFs, there may be less actively involved shareholders willing to push for changes during shareholder meetings.
Index funds now account for half of the U.S. stock fund market, but the people behind the money rarely influence decisions or demand better returns at the companies in which they have invested trillions of dollars, Reuters reports.
According to a Reuters analysis of shareholder-voting records, the money managers behind some of the biggest index funds, like BlackRock Inc, Vanguard Group and State Street Corp, rarely push for changes at the corporate level. For example, BlackRock voted with management 93% of the time, along with Vanguard at 91% and State Street at 84% during the proxy year ended June 30, 2018.
On the subject of executive income, BlackRock opposed executive pay 3% of time in 2018 among Russell 3000 companies, Vanguard opposed pay 5% of the time, and State Street funds opposed pay 9%, according to Proxy Insight data. In comparison, the California Public Employees' Retirement System opposed executive pay 53% of the time in the first seven months of 2019 for U.S. companies. The New York State Common Retirement Fund opposed executive pay 27% of the time last year at U.S. companies. The retirement system run by the Florida State Board of Administration voted against executive compensation 64% of the time among 2,226 U.S. companies for the year ended June 30.
"If we think that informed and engaged shareholders play an important role in disciplining company management, the rise of index investing is a problem," Dorothy Lund, a law professor at USC's Gould School of Law and an author of several published corporate-governance studies, told Reuters.
Lund argued that since the index funds do not seek to outperform market indices and just passively reflect the underlying index performances, there is no financial incentive to ensure the portfolio of underlying companies are well run.
Michelle Edkins, who oversees BlackRock's proxy voting, noted that BlackRock has kept in touch with executives and directors through direct talks or emails and argued that "a vote against management is a sign of a failed engagement."
"It's wrong to measure the effectiveness of BlackRock's investment stewardship efforts solely by our proxy voting record," BlackRock said in a statement. "That fails to recognize our process of engaging directly with companies to enhance the long-term value of our clients' assets."
This article originally appeared on ETFTrends.com.
---
Content continues below advertisement