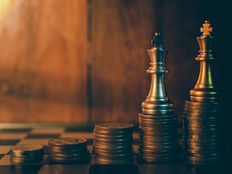 This week, Charles Schwab Investments Management (CSIM), an asset management arm of The Charles Schwab Corporation, is expanding its roster of low-cost foundational ETFs by launching three new fixed income products. These funds include the Schwab 1-5 Year Corporate Bond ETF (SCHJ), the Schwab 5-10 Year Corporate Bond ETF (SCHI), and the Schwab Long-Term U.S. Treasury ETF (SCHQ).
With a 0.06% operating expense ratio, these three new ETFs from Schwab are among the least expensive in their respective categories.

---
Content continues below advertisement
"The Schwab ETFs are designed to serve investors' biggest needs and do so at a great value. We constantly seek client feedback, and use that input as a major factor in deciding how we expand our product lineup," says Jonathan de St. Paer, President of CSIM.
Expanding The Lineup
SCHJ, SCHI, and SCHQ nearly double Schwab's bond ETF lineup, raising it from four to seven. This brings the total number of Schwab ETFs to 25. It also marks the latest chapter in what Schwab sees as an extraordinary growth story.
"Investors are increasingly looking to bond ETFs as a potential source of diversification, liquidity, and income, particularly in this time of heightened stock market volatility," St. Paer states.
With all the recent discussion regarding the race to zero that put Schwab into some interesting positions, these new products only seem to do more to emphasize the sort of stance the corporation is making as a whole.
"These three new ETFs are designed to address the needs that our clients tell us are most important to them," Schwab also notes. "We are pleased to offer these new low cost ETFs now, as investors are increasingly looking to bond ETFs as a potential source of diversification, liquidity, and income. As exchange traded funds, investors will be able to access the products from any brokerage platform when they are available starting on 10/10."
Related: Schwab Eliminates ETF, Stock and Options Commissions
Since launching their first ETF in 2009, Schwab has risen to become the #5 provider with $151 billion in ETF assets. Adding these new products will only further work in the company's favor.
St. Paer continues, "We are committed to listening to our investors on what their biggest needs are, and serving those needs with no trade-offs – providing both high quality product and great value. As always, we will continue to listen to client feedback as we thoughtfully expand our product offering."
SCHJ, SCHI, and SCHQ have now launched and are available for trade.
This article originally appeared on ETFTrends.com