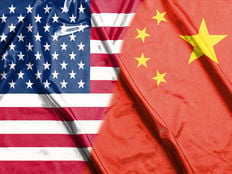 U.S. markets and stock ETFs strengthened Wednesday as investors tried to maintain optimism ahead of high-level trade talks between the United States and China on Thursday.
On Wednesday, the Invesco QQQ Trust (QQQ B+) was up 1.1%, SPDR Dow Jones Industrial Average ETF (DIA B+) rose 0.8%, and SPDR S&P 500 ETF (SPY A) gained 1.0%.
As of 1 pm ET, the Dow was trading up 200 points (0.76%), the S&P 500 up 27.98 (0.97%) and Nasdaq up 84.28 points (1.07%)
Market participants looked optimistically to trade developments on news that China was open to reaching a partial deal, the Wall Street Journal reports.
"When there's a sense that we're going to get a positive outcome, you see equities rally," Shawn Cruz, manager of trader strategy at TD Ameritrade, told the WSJ. "When there's this sense they're not going to be able to get a deal struck or make progress, then you see equities sell off."
The positive turn was a stark contrast to the previous session Tuesday when markets plunged in response to speculation of rising tensions between the U.S. and China after the Commerce Department blacklisted a number of Chinese companies and the government placed visa restrictions on Chinese officials.
"The reality of what we can actually expect from these talks is for both sides to come to a truce. If they just called a time-out, a detente, then the markets would celebrate that," Art Hogan, chief market strategist at National Securities, told Reuters.
Investors Wait on Fed Chair Jerome Powell
Investors were also waiting on potential cues from Federal Reserve Chairman Jerome Powell's speech in Kansas City later Wednesday. Powell previously said the Fed is willing to increase its purchases of short-term securities to avoid stress in lending markets. The central bank will also release minutes from its September meeting to provide a clearer picture on where officials stood on the interest rate outlook, but poorer economic data and recent market events may have altered the Fed's stance since the meeting.
"What the Fed minutes discuss is likely to be stale information," Jordan Rochester, foreign exchange strategist at Nomura Bank, told the WSJ. "The data has deteriorated since they had their discussion. After the poor manufacturing figures more recently, they softened their tones."
This article originally appeared on ETFTrends.com.
---
Content continues below advertisement