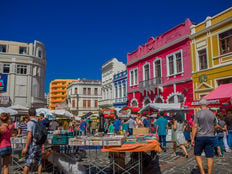 A popular Brazil country-specific ETF attracted a record weekly inflow as investors shifted back into the emerging Lain American economy in response to record-low interest rates and hopes the government can push through long-awaited reforms.
The iShares MSCI Brazil Capped ETF (EWZ A-), the largest Brazil-related ETF, saw $126 million in net inflows for the week ended October 18, the most in eight months, Bloomberg reports. The sudden influx of cash marked a stark contrast to the almost stagnant money flow going in or out of the ETF since June when investors pulled $358 million out of the fund in just one week.
Investor sentiment for Brazilian assets has grown more bullish as the country's central bank is largely expected to cut the already record-low interest rates in light of the slower-than-expected economic recovery and moderate inflationary pressures.
Will Pruett, a money manager at Fidelity who is overweight Brazilian stocks within Latin America, also believed that if interest rates fall more than markets are pricing in, the equity market could be significantly undervalued.
"This is the real bull argument for Brazilian stocks," Pruett told Bloomberg.
Looking Ahead At Brazil Stocks
Looking ahead, Morgan Harting, a portfolio manager at AllianceBernstein, argued that Brazilian stocks have more room to run than fixed income, "particularly as progress is made on structural reform and to the extent that local interest rates continue to trend down."
"Currently, our largest Latin America exposure is in Brazil, and primarily stocks. We had a larger allocation of Brazilian bonds, but took profits as interest rates came down and rotated to equity," Harting added.
The Senate is expected to conclude its final vote on social security reform legislation on Tuesday, which may have also contributed to the recent ETF inflows since the reforms can provide a short-term boost.
"There is supposed to be some economic reforms coming up which might be seen as a short-term catalyst for the country," Mohit Bajaj, director of ETFs at WallachBeth Capital, said. "For a short-term play, I like the country, especially if interest rates decline to spur growth. But only as a tactical play rather than a long term hold going into year-end."
This article originally appeared on ETFTrends.com
---
Content continues below advertisement