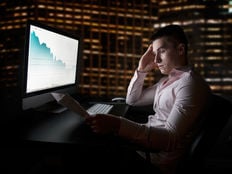 U.S.-China trade optimism and third-quarter earnings are reinstalling confidence back into investors to start the fourth and final quarter of 2019. Is this a sign to break free from bonds and jump back into U.S. equities?
Some analysts seem to think so. As better-than-expected third-quarter earnings continue to roll in and China becoming more receptive to working out a trade deal with the U.S., it might seem that bond exposure can be dialed back.
"I still think we are in a secular bull market, I think earnings are going to come in again better than people think," Capital Wealth Planning Market Strategist Jeff Saut "said":https://www.foxbusiness.com/markets/stocks-no-brainer-over-bonds during an interview on FOX Business. "I think trade tensions will ease eventually, I think earnings are going to re-assert themselves, I think the economy is going to pick up and I think there is going to be no recession, I think people have been running around crying for a recession for the past two years are going to be just wrong again."
However, other analysts are warning that other events are still up in the air and a U.S.-China trade deal shouldn't be the only catalyst that would move the markets—for the better or worse.
"A credible and sizable positive trade announcement could expedite a turn for the better, although there is no sign of such an outcome," strategists at MRB Partners wrote in a note. "There is considerable uncertainty on many fronts, including weak global trade and manufacturing activity, a generally protectionist trade backdrop, and many domestic and international political hotspots.
---
Content continues below advertisement
As such, it's still necessary to get core bond exposure. One way is via the iShares Core U.S. Aggregate Bond ETF (AGG A), which is the big fish in an even bigger sea of bond exchange-traded funds (ETFs).
What's under the hood of this ETF that gives investors the much-needed core bond exposure, especially in today's volatile market?
Fund Facts:
AGG

seeks to track the investment results of the Bloomberg Barclays U.S. Aggregate Bond Index.
The index measures the performance of the total U.S. investment-grade bond market.
The fund generally invests at least 90% of its net assets in component securities of its underlying index and in investments that have economic characteristics that are substantially identical to the economic characteristics of the component securities of its underlying index.
From corporate bonds to safe haven government debt, navigating the bond market is akin to a Jacques Cousteau-like ocean exploration. However, AGG can give investors broad-based exposure to the bond market, particularly when the options in fixed income are aplenty.
This article originally appeared on ETFTrends.com