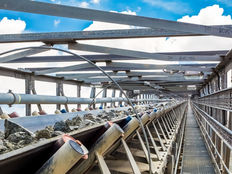 Palladium prices and metals-related ETF maintained their rally through October, reflecting the ongoing optimistic outlook for the future of automobile demand and tighter environmental regulations.
The Aberdeen Standard Physical Palladium Shares ETF (PALL A) increased 5.9% since the start of the month and advanced 39.1% year-to-date as the palladium spot price jumped to $1,744 per ounce
Palladium, a precious metal that used in catalytic converters to reduce harmful greenhouse gas emissions from gasoline cars, is now one of the market's best performing assets of 2019. Palladium prices have continued to strengthen as analysts predict a steady demand stream and limited production could contribute to supply shortages, the Wall Street Journal reports.
Palladium's Positive Demand Outlook
Unlike the other white metal platinum, which as part of catalytic converters for diesel engines, palladium has benefited from a positive demand outlook that analysts expect to persist as governments around the world aim to meet rising environmental conservation goals.
"Increasing environmental scrutiny of vehicle emissions in China and Europe has clearly been constructive for palladium demand," ING analysts said in a recent note.
Johnson Matthey PLC, a London-based metals trader and one of the world's largest makers of catalytic converters, calculated that palladium demand exceeded supply for the sixth consecutive year in 2018.
Related: 10 Best-Performing Precious Metals ETPs So Far in 2019
Moreover, the return to lower interest rates around the world has continued to support demand for physical assets, which tend to exhibit an inverse relationship to interest rates since investors are less apt to hold non-yield-generating raw materials when bonds offer higher yields in a rising rate environment.
However, the palladium market is not without its risks. Despite the recent strength, some analysts have warned of a swift turn, underscoring palladium's tendency for outsize swings when sentiment changes or a reversal in other precious metals like platinum and gold that could drag down the broader precious metals group.
This article originally appeared on ETFTrends.com
---
Content continues below advertisement