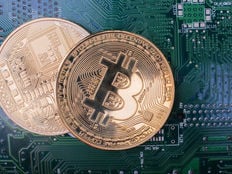 Bitcoin, the largest digital currency by market value, could make move higher into year-end if it can stay above some key technical levels this week, according to a note crypto-market analyst.
Bitcoin has recently struggled, but those woes could abate if the digital asset can stay above $8,500 this week, said deVere Group CEO Nigel Green in a Monday note. In fact, Green argues that if Bitcoin can accomplish that goal, it could rally to $12,000 by the end of 2019.
"Bitcoin has registered some impressive gains over the last 48 hours after being in a lull period in recent weeks," said Green. "As of now, it has defied the so-called Death Cross – a bearish pattern that takes place when the 50-day moving average falls below the 200-day moving average."
If Bitcoin holds around $8,500 or trade slightly higher, it could bring more interest in the form of crypto funds. Investors who are hesitant to jump into crypto assets may see the lower price volatility as a more favorable option to equities.
Bitcoin Kicking Off With A Bang
As it is, the digital currency is coming off an epic weekend rally. Bitcoin kicked off the weekend with a bang for the bulls, rising as much as 40% within a 24-hour period. The leading cryptocurrency hit a low of $7,300 prior to the weekend before surging just over $10,000, which signaled its largest price move since April.
Bitcoin got a boost from China President Xi Jinping saying that the country should "seize the opportunity" of cryptocurrency's blockchain technology. Since the trade war with the U.S., China has been making moves to bolster its technology sector and blockchain could be one of the key areas where it has a competitive advantage over the U.S.
"This latest surge in Bitcoin was triggered by China's President Xi calling the adoption of blockchain – the technology on which cryptocurrencies run – an important breakthrough for independent innovation of core technologies," said Green. "This is a clear signal that the leader of the world's second-largest economy is moving towards embracing the technology – in which Bitcoin plays a vital part – and therefore taken as a positive boost for the whole digital currencies sector."
This article originally appeared on ETFTrends.com.
---
Content continues below advertisement