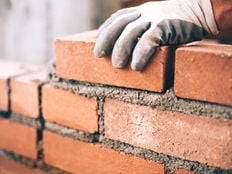 Homebuilder stocks and sector ETFs are building up as U.S. construction spending rose more than expected and investment in home construction hit its highest level in nine months.
On Friday, the SPDR S&P Homebuilders ETF (XHB A+) was up 1.0%, iShares U.S. Home Construction ETF (ITB A) gained 1.7% and Invesco Dynamic Building & Construction ETF (PKB A) advanced 2.6%. These homebuilder ETFs do not solely focus on home construction companies as they also include discretionary retail names that sell home furnishing and other goods.
The Commerce Department revealed construction spending was 0.5% higher over September, compared to expectations of a 0.2% gain, Reuters reports. However, data for August was downwardly revised to show construction outlays slipping 0.3% instead of rising 0.1% as previously calculated.
Looking more closely, spending on private residential projects was up 0.6% to $511.4 billion, the highest level since December 2018, after increasing 0.8% in August. Meanwhile, investment in residential construction recovered in the third quarter after shrinking over six consecutive quarters due to declining mortgage rates.
Mortgage rates have been on a steady decline after the Federal Reserve cut interest rates three times this year in support of perceived weakness in the economy. The current economic expansion, now in its 11th year, is still exposed to a trade war between the United States and China, along with slowing growth.
Further bolstering the risk-on sentiment, the Labor Department reported a better-than-expected payroll number. The improved economic status helped fuel expectations that Americans may be better off and could continue to buy into an expanding housing market.
According to the National Association of Home Builders' (NAHB) 55+ Housing Market Index (HMI), builder confidence in the single-family 55+ housing market also rose one point in the third quarter of 2019 to its record-high reading of 72, FloorDaily reports.
"The 55+ market has been supported by strong demand as aging Baby Boomers continue to seek downsized homes, but with higher end features and amenities," Karen Schroeder, chair of NAHB's 55+ Housing Industry Council and vice president of Mayberry Homes, told FloorDaily. "While conditions remain positive, headwinds such as labor shortages and rising construction costs are still dampening the market a bit."
This article originally appeared on ETFTrends.com.
---
Content continues below advertisement