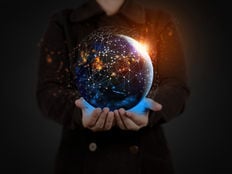 Despite better-than-expected earnings and positive vibes emanating from a U.S.-China trade deal, the search for yield by fixed income investors is still quite a task to undertake, especially given today's low rates. Fortunately, there are alternatives for seeking yield, such as ETFs like the Global X Super Dividend REIT ETF (SRET B+).
SRET invests in real estate investment trusts (REITs), which gives real estate exposure to investors seeking that diversification of their portfolio through alternative assets. REITS are entities formed for the sole purpose of investing in real estate using pooled capital to purchase properties.
REITs also have their own inherent advantages. Unlike actually holding real estate assets, SRET gives investors the ability to unload shares quickly or in financial vernacular, the liquidity that gives them mobility with their capital as opposed to real estate itself.
SRET seeks investment results that correspond generally to the price and yield performance, before fees and expenses, of the Solactive Global SuperDividend REIT Index. The underlying index tracks the performance of REITs that rank among the highest yielding REITs globally, as determined by Solactive AG, the provider of the underlying index.
More about the index:
MSCI

ACWI

Index captures large and mid cap representation across 23 Developed Markets (DM) and 24 Emerging Markets (EM) countries.
The index covers approximately 85% of the global investable equity opportunity set. DM countries include: Australia, Austria, Belgium, Canada, Denmark, Finland, France, Germany, Hong Kong, Ireland, Israel, Italy, Japan, Netherlands, New Zealand, Norway, Portugal, Singapore, Spain, Sweden, Switzerland, the UK and the US. EM countries include: Brazil, Chile, China, Colombia, Czech Republic, Egypt, Greece, Hungary, India, Indonesia, Korea, Malaysia, Mexico, Pakistan, Peru, Philippines, Poland, Russia, Qatar, South Africa, Taiwan, Thailand, Turkey and United Arab Emirates
Furthermore, SRET gives investors more diversification by looking at opportunities around the globe as opposed to staying within domestic borders. The fund screens for only the highest yielding opportunities no matter what part of the globe that yield happens to be in.
Additionally, by allowing for monthly distributions, SRET can be used as a viable income source in addition to the aforementioned benefits. The fund is up 19.59% thus far YTD.
---
Content continues below advertisement
High Income Potential:

SRET

accesses 30 of the highest yielding REITs in the world, potentially increasing a portfolio's yield.
Monthly Distributions:

SRET

makes distributions on a monthly basis, providing a regular source of income for a portfolio.
Global Exposure:

SRET

invests in REITs from around the globe, which can help diversify both geographic and interest rate exposure.
Expense Ratio: 0.59%
Distribution Yield: 8.04% as of 10/28/19
Top 10 holdings and weightings:
Independence Realty Trust Inc 4.54%
PennyMac Mortgage Invstmt Trust 3.67%

VEREIT

Inc 4.15%
Apple Hospitality

REIT

Inc 3.55%
Arbor Realty Trust Inc 3.81%
Apollo Commercial Real Estate 3.53%
Stockland 3.72%
Omega Healthcare Investors Inc 3.52%
Starwood Property Trust Inc 3.70%
Gaming and Leisure Properties 3.48%
This article originally appeared on ETFTrends.com.