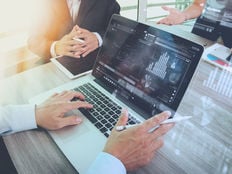 Exchange traded fund investors are showing a greater interest in the value style as an extended bull market sends investors looking for better-priced segments of the market.
Over $3 billion was funneled into ETFs that track undervalued companies over October, the most this year, Bloomberg reports.
The Vanguard Value ETF (VTV A) was the most popular value-oriented ETF play. Over the past month, VTV attracted a little over $1 billion in net inflows, according to ETF Database data, followed by iShares Russell 1000 Value ETF (IWD A-) and SPDR Portfolio S&P 500 Value ETF (SPYV A), which brought in $329 million and $295 million in net inflows, respectively.
Value stocks, or companies whose shares trade at a low multiple to their book value or net worth, have recently experienced the largest divergence in performance from growth-focused stocks this decade. Buying cheap value stocks has been a poor investment strategy for most of the past 10 years as the growth style outperformed. For instance, the S&P 500 Growth Index has outperformed its value counterpart by over 80 basis points for that period, discouraging many value investors. However, some are convinced that the approach is due for a resurgence, especially as the stock rally slows down after reaching a record.
"Every time the market has set a new high, something has come along to take it down," Stephen Cucchiaro, chief investment officer and founder of 3Edge Asset Management, told Bloomberg. "There's a lot more upside in these undervalued markets, and we wouldn't be chasing these overvalued markets."
ETF investors are also picking up on this sentiment as value funds added money over October, whereas growth ETFs experienced redemptions for the fourth consecutive month, their longest losing streak in over three years. Furthermore, a gauge of value stocks outperformed growth by almost 1 percentage point last month.
This article originally appeared on ETFTrends.com.
---
Content continues below advertisement