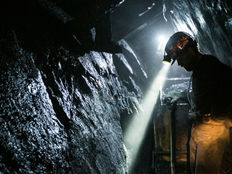 Gold prices remained steady last Friday following a strong October jobs report and that should benefit mining ETFs, including the VanEck Gold Miners ETF (GDX B+) and the VanEck Vectors Gold Miners ETF (GDXJ B+).
However, some commodities market observers are concerned that small-cap miners, such as those found in GDXJ, are poised to diverge in bearish fashion from their large-cap peers that dwell in GDX. The prognosis is interesting when considering GDXJ jumped more than 4% in October, but the fund traded slightly lower last Friday.
Some analysts also argued that precious metals found further support from risks of a global economic slowdown and expectations that the Federal Reserve will implement more interest rate cuts to offset the growth concerns.
"The decline's continuation means that everything that we wrote above is more than up-to-date. It was just confirmed by juniors' price action," according to FX Empire. "If the breakdown was not a big deal, the junior miners could have rallied, just like the senior miners did. But that's not what happened. The previously broken support has now turned into resistance, and it makes the possible short-term upside very limited. The downside, however, is huge."
An Ambitious Forecast
That forecast is ambitious when considering gold appears to have plenty of tailwinds, including lower interest rates throughout the world.
Gold ETFs are pushing to the upside amid increased expectations of a U.S. rate cut, even as some investors locked in profits from bullion's recent rally. Gold is believed by many investors to be inversely correlated with interest rates. Rising interest rates make bonds and other fixed-income investments more attractive so that the money will flow into higher-yielding investments, such as bonds and money market funds, and out of gold, which offers no yield at all during times of higher interest rates, and back into gold ETFs.
Gold's upside, which often carries junior and senior miners along for the ride, presents a competing view to some traders' belief that there's near-term risk in junior miners. Still, the main small-cap miners could retreat over the near-term.
"The nearest strong support is the 2018 low, but we doubt that it will hold, given that the recent breakdown took place so close to it. The price had already taken a breather and it's ready to slide further," according to FX Empire.
This article originally appeared on ETFTrends.com.
---
Content continues below advertisement