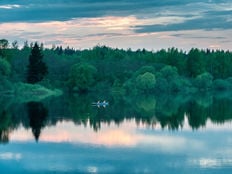 As the beer was flowing at the annual Oktoberfest in Munich, Germany, investor capital was flowing into fixed income exchange-traded funds (ETFs) during the month of October, according to a State Street Advisors' U.S.-Listed Flash Flows report.
When it came to stocks and bonds head to head in that month, it was bonds who met the checkered flag first while equities lagged behind. All in all, equity ETFs attracted $10.9 billion during the month of October, which represents the lowest monthly total for 2019.
As far as which sectors thrived in equities, financial ETFs were in pole position with $1.10 billion taken in while real estate attracted $733 million. As far as which sectors were hurting, materials saw outflows of $598 million and health care saw $596 million head for the exit.
As the extended bull run was charging forward in 2018, the steam clearly dissipated for equities in 2019. Equity ETFs saw $87 billion amassed year-to-date in 2019, which is a 41% drop from last year's pace.
A confluence of U.S.-China tariff battles, inverted yield curves and slowing global growth sparked a risk-off sentiment that was readily apparent in capital allocations to bonds. Fixed income ETFs were the prime benefactors with more than $14.7 billion amassed during October— almost $130B has flowed into bond ETFs so far in 2019, which is outpacing the record of $127 billion accumulated in 2017.
Meanwhile, as investors were piling into bonds, particularly safe haven government debt, this put downward pressure on yields as bond prices went higher. As such, fixed income investors were starving for yield and that was made apparent in the inflows into high yield ETFs.
High-yield ETFs accumulated more than $1.4 billion in assets during the month of October. For the year thus far, high yield has taken in more than $15 billion.
---
Content continues below advertisement
The State Street report comes after global investment firm Goldman Sachs noticed that the movement to bonds mimics the same investor behavior during the financial crisis in 2008, which also saw a large gravitational pull of capital to bonds.
As opposed to mortgage meltdown, the reasons are different this time around. A confluence of various events are creating an environment where safe haven assets like bonds are attractive.
"Decelerating US economic growth, trade and geopolitical uncertainty, and near-record high starting equity allocations have likely contributed to the rotation from equities to bonds and cash this year," Goldman analysts said.
This article originally appeared on ETFTrends.com.