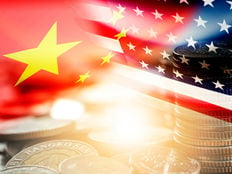 U.S. markets and stock ETFs were trying to regain lost ground Monday after the broad early declines in response to trade talk uncertainty.
On Monday, the Invesco QQQ Trust (QQQ B+) was down 0.1%, SPDR Dow Jones Industrial Average ETF (DIA B+) rose 0.1%, and SPDR S&P 500 ETF (SPY A) was 0.1% lower.
The market optimism from last week soured on Monday after President Donald Trump said over the weekend that the United States would only sign a deal if it was the "right deal" for America, adding that the talks had moved more slowly than anticipated, Reuters reports.
Equities rallied last week on optimism over the prospects of a "phase one" trade deal as both the U.S. and China showed intent to de-escalate a trade war. However, some still warned that investors should reign in expectations as we have been burned before.
Unlikely To Go Away In A Hurry
"The fundamental trade tension between the U.S. and China is unlikely to go away in a hurry, and I think the problem with calling it a 'phase one' trade deal is that it then implies there will be a 'phase two' trade deal," Mike Bell, global market strategist at J.P. Morgan Asset Management, told the Wall Street Journal.
Violent protests in Hong Kong further weighed on sentiment after police fired gunshots at protestors in the 24th consecutive week of pro-democracy demonstrations.
"The protests in Hong Kong seem to be increasing the worries of a trade deal, but I think it's just an excuse to take some money off the table," Peter Cardillo, chief market economist at Spartan Capital Securities, told Reuters. "We have been quite strong at those market highs last week, so it's just a minor pullback, and I don't think it's going to be enduring."
This article originally appeared on ETFTrends.com.
---
Content continues below advertisement