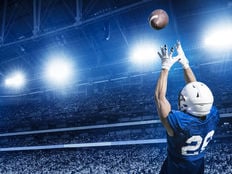 The Federal Reserve instituted its third rate decline recently after reversing course from its four straight rate hikes in 2019. As such, investors have been apter to take on risk via longer duration debt and as such, one ETF to consider is the Vanguard Long-Term Bond Index Fund ETF Shares (BLV A-).
The strategy to go long certainly pivots from last year's strategy to shorten duration as rates were on the rise in the throes of an extended bull run. Now that the steam could be dissipating from a strong equities market, rising yields could work in favor of longer duration debt.
"As fears of rising interest rates have abated, fixed-income investors have been creeping back out to the farther reaches of the yield curve," wrote Ben Johnson in Morningstar. "Over the 12 months through October 2019, exchange-traded funds in the long-term bond Morningstar Category have amassed $4.1 billion in net new inflows. This equates to 53% organic growth in this figure on a year-over-year basis–the highest reading since the year ended in October 2014. Here, I highlight one of our top-rated ETFs within the category."
BLV seeks to track the performance of the Bloomberg Barclays U.S. Long Government/Credit Float Adjusted Index. Bloomberg Barclays U.S. Long Government/Credit Float Adjusted Index includes all medium and larger issues of U.S. government, investment-grade corporate, and investment-grade international dollar-denominated bonds that have maturities of greater than 10 years and are publicly issued.
A Compelling Choice
"Vanguard Long-Term Bond ETF (BLV) is a compelling choice for exposure to long-term investment-grade bonds," Johnson added. "Its well-constructed index and cost advantage underpins its Morningstar Analyst Rating of Silver. The portfolio delivers market-value-weighted exposure to U.S. corporate and government bonds with maturities of 10 years or longer by tracking the Bloomberg Barclays U.S. Long Government/Credit Float Adjusted Index, which tilts toward high-credit-quality investments. However, the fund takes a significant interest-rate risk, making it vulnerable to rate movements."
In addition, the fund has a strong track record that spans over a decade.
---
Content continues below advertisement
"The fund boasts a long record of tightly tracking its index since its inception in April 2007," Johnson wrote. "From inception through June 2019, the fund gained 7.06% annually, matching the performance of its spliced benchmark. The fund is cheaper than the vast majority of its category peers, which gives it a durable advantage."
Based on Yahoo Finance performance numbers, the fund has been generating returns of over 18% year-to-date and over 24% within the past year.
This article originally appeared on ETFTrends.com.