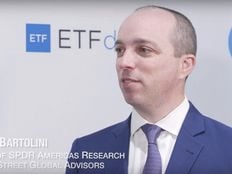 Exchange traded funds are toted as a cheap and efficient investment vehicle that anyone can easily access. However, not many investors fully understand the elements that go into the total cost of ETF ownership.
"It's just understanding the components. So, we've developed a formula that really breaks it into the two main variables: you have issuer control costs and then you have investor control costs," Matt Bartolini, Head of SPDR Americas Research, State Street Global Advisors, said at the 2019 Charles Schwab IMPACT conference.
Bartolini explained that the issuer side costs may be comprised of directly stated components like expense ratio fees, along with indirect components like portfolio management efficiency or how well the manager tracks an intended benchmark to limit tracking errors. Furthermore, issuers may engage in securities lending programs to generate additional revenues, which may then be passed on to investors as a way to pare down fees.
Investor control costs consist of components that a trader may have to face when executing an ETF trade. For example, the bid-ask spread and commissions on trades are aspects that many have to face when dealing with their online brokers.
"Understanding which one you want to play more emphasis on, on how you trade, how often you trade, and how much turnover in your portfolio can actually have a different result in the overall total cost of ownership of a division of an individual ETF," Bartolini added.
Watch the full video between Tom Lydon and Matt Bartolini on the total cost of ETF ownership:
---
Content continues below advertisement