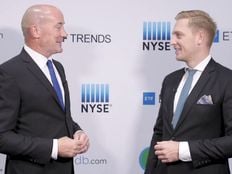 For anyone not familiar with ARK Invest, they have a suite of ETF strategies dedicated to helping investors hone in on disruptive innovations and technologies with the potential to affect the global economy.
"We focus solely on disruptive innovation. We try to identify the company in the public market that are the leaders, enablers and beneficiaries of technology and innovation – the companies that are trying to change how the world works in the future with the three to five year investment horizon. So, we take that research and we offer thematic strategies to our investors," Sebastian Benkert, CMO, ARK Invest, said at the 2019 Charles Schwab IMPACT conference.
For example, ARK Invest's flagship ARK Innovation Fund (ARKK B+) seeks to invest in the cornerstone companies taken from healthcare, technology and industrial sectors that focus on investing in disruptive innovation. Such companies may include ones that benefit from big data, cloud computing, cryptocurrencies, the sharing economy, genomic sequencing, molecular medicine, agricultural biology, 3D printing, energy storage, and autonomous vehicles.
The actively managed fund includes companies that merge healthcare with technology and capitalize on the revolution in genomic sequencing. These companies try to better understand how biological information is collected, processed, and applied by reducing guesswork and enhancing precision; restructuring health care, agriculture, pharmaceuticals and enhancing our quality of life.
The technology component focuses more in the next generation of internet names. These tech companies benefit from the shifting bases of technology infrastructure to the cloud, enabling mobile, new and local services, such as companies that rely on or benefit from the increased use of shared technology, infrastructure and services, internet-based products and services, new payment methods, big data, the internet of things, and social distribution and media.
Lastly, the industrial exposure covers a so-called new industrial revolution or advances in autonomous vehicles, robotics, 3D printing, and energy storage technology that are enhancing productivity, reducing costs, and transforming the manufacturing landscape.
Additionally, investors can look to the ARK Industrial Innovation ETF (ARKQ B), ARK Web x.0 ETF (ARKW C+) and ARK Genomic Revolution Multi-Sector Fund (ARKG A-) to target the three innovative segments separately. The ARK Industrial Innovation ETF captures the converging industrial and technology sectors, capitalizing from autonomous vehicles, robotics, 3D printing, and energy storage technologies. The ARK Web x.0 ETF targets next-gen internet innovations like artificial intelligence, cloud computing, cryptocurrencies, and blockchain technology. Lastly, the ARK Genomic Revolution Multi-Sector ETF tracks the convergence of tech and health care.
Watch the full interview between Tom Lydon and Sebastian Benkert:
---
Content continues below advertisement