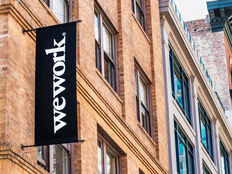 It seems like startup WeWork can't catch a break as corporate bonds of the commercial real estate company continue to plunge following an assessment of its financial health. WeWork is scrambling to re-instill investor confidence following a $10 million bailout.
Per a MarketWatch report, "WeWork's nearly $700 million of outstanding junk bonds traded elsewhere at a fresh average low of $78.65 cents on the dollar Monday, down from an average of $82.20 cents on the dollar Friday, according to bond data and trading platform MarketAxess."
WeWork's bond yields were up to 13.52%, which is almost double the 7.875% yield 18 months ago. The core business of WeWork centers around renting out work spaces to start-ups and other businesses.
According to content from its website, WeWork is "committed to elevating the collective consciousness of the world by expanding happiness and unleashing every human's superpowers."
"The company's bonds briefly punched above 91 cents on the dollar on Oct. 14 amid optimism about a planned multibillion-dollar rescue of the platform, but sank in trading the next day as bankers circulated a rescue proposal that would have added more debt to the company," the MarketWatch report noted. "The bonds, which mature in May 2025, have struggled since to stay above 85 cents on the dollar in trading, according to MarketAxess."
Investors who do want IPO exposure without the added risk of putting their capital into one specific stock can look to ETFs that are IPO-focused. A trade impasse in the U.S.-China trade deal and fears of a global economic slowdown are causing markets to fret when it comes to allocating capital into equities, but that hasn't stopped a red hot initial public offering (IPO) market. This is helping one IPO-focused ETF be a top performer thus far in 2019.
In fact, some analysts are making it known that an uptick in IPO activity has been correlated with downturns in the S&P 500 over a 12-month period. For investors who want a piece of the IPO action, but don't necessarily want to assume all the risk associated with investing in a single stock like Uber or Lyft can look to the Renaissance IPO ETF (IPO B-).
PO seeks to replicate the price and yield performance of the Renaissance IPO Index, which is a portfolio of companies that have recently completed an initial public offering ("IPO") and are listed on a U.S. exchange. Based on Morningstar performance numbers as of Nov. 12, IPO is up 26.2% YTD.
---
Content continues below advertisement