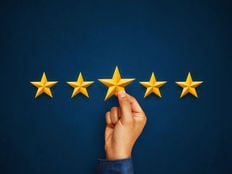 Investor appetite for bonds doesn't seem to be letting up anytime soon and as the "recession" word keeps popping up in the financial markets, it will continue this way for quite some time. For investors looking to build a proper bond portfolio, they can look at ETFs that have earned Morningstar's Gold rating.
"Be sure to start building your bond-fund portfolio with core, intermediate-term funds that give you a lot of diversification in a single holding," said Morningstar director of personal finance Christine Benz.
PIMCO

Enhanced Short Maturity Active Exchange-Traded Fund (

MINT

): seeks maximum current income, consistent with preservation of capital and daily liquidity. "Fixed Income Instruments" include bonds, debt securities and other similar instruments issued by various U.S. and non-U.S. public- or private-sector entities. The average portfolio duration of this fund will vary based on PIMCO's market forecasts and will normally not exceed one year.
Vanguard Short-Term Inflation-Protected Securities Index Fund

ETF

Shares (

VTIP

): seeks to track the performance of the Bloomberg Barclays U.S. Treasury Inflation-Protected Securities (

TIPS

) 0-5 Year Index. The index is a market-capitalization-weighted index that includes all inflation-protected public obligations issued by the U.S. Treasury with remaining maturities of less than 5 years. The manager attempts to replicate the target index by investing all, or substantially all, of its assets in the securities that make up the index, holding each security in approximately the same proportion as its weighting in the index.
Schwab U.S.

TIPS

ETF

(

SCHP

): seeks to track as closely as possible, before fees and expenses, the total return of the Bloomberg Barclays US Treasury Inflation-Linked Bond Index (Series-L). The index includes all publicly-issued U.S. Treasury Inflation-Protected Securities (

TIPS

) that have at least one year remaining to maturity, are rated investment grade and have $500 million or more of outstanding face value. The

TIPS

in the index must be denominated in U.S. dollars and must be fixed-rate and non-convertible.
Fidelity Total Bond

ETF

(

FBND

): seeks a high level of current income. It uses the Bloomberg Barclays U.S. Universal Bond Index as a guide in allocating assets across the investment-grade, high yield, and emerging market asset classes. The fund invests up to 20% of assets in lower-quality debt securities. It is managed to have similar overall interest rate risk to the index.
The fund on the list that's suitable for the largest swath of investors is likely Fidelity Total Bond ETF (FBND), writes Susan Dziubinski of Morningstar.
"Why? Because when it comes to bond investing, intermediate-term funds are the starting point—and for many, the ending point, too," she said.
Two of the other Gold-rated funds on the Morningstar list—Vanguard Short-Term Inflation-Protected Securities ETF (VTIP) and Schwab U.S. TIPS ETF (SCHP)—land in the inflation-protected bond category.
Either would make a good choice for those looking to add a bit of inflation protection to their portfolios—especially to a bond-heavy portfolio. TIPS funds are especially good choices for those in retirement, says Benz.
The final Gold-rated fund on the list—Pimco Enhanced Short Maturity Active ETF (MINT)—lands in the ultrashort bond category. ETFs in this group and the short-term bond categories are good choices for nearer-term goals.
"The team has the expertise to employ a wider range of tactics than many of its ultrashort bond Morningstar Category competitors," explains director Miriam Sjoblom. "But while that can translate to a bit more risk at PIMCO Short-Term (PTSHX), manager Jerome Schneider follows a buttoned-up process here … [that] doesn't use derivatives, won't take currency risk, and sticks with investment-grade debt."
Related: Bond ETFs for Those Focused On Resurgence in Inflation
Since it covers a wide array of debt, FBND is deal for a majority of investors.
"Besides investing in the typical investment-grade credit, mortgages, and U.S. Treasuries that constitute the fund's Bloomberg Barclays U.S. Aggregate Bond Index benchmark, lead portfolio manager Ford O'Neil and his team may allocate up to 20% in non-investment-grade bonds, including high-yield and emerging-markets debt, when they find market valuations compelling," explains analyst Emory Zink. "Relative to more conservatively positioned core-plus bond peers, this provides the fund with an edge in risk-on markets, but the flexibility may also invite more volatility."
Watch: Where investors should turn if bond yields bottom
---
Content continues below advertisement