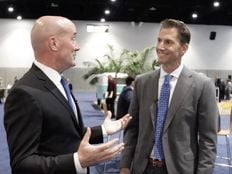 Charles Schwab continues to attract investors and financial advisors, offering access to cheap ETFs for many years and recently axing commission trading fees.
Charles Schwab's ETF suite has accumulated $150 billion in assets under management, is the fifth-largest ETF provider in the U.S., and is the third-largest in flows for the past couple of years.
"It's exceeded our expectations and we just couldn't be happier," Jonathan de St. Paer, President of Charles Schwab Investment Management, said at the 2019 Schwab IMPACT conference.
Schwab offers some of the cheapest U.S.-listed ETFs on the market, including the Schwab U.S. Large-Cap ETF (SCHX A) and Schwab U.S. Broad Market ETF (SCHB A), which both come with a 0.03% expense ratio.
"I think the secret is doing what Schwab does best, which is listening to our clients, understanding what they want to learn, what they want to hear about, looking at the world through their eyes, and I'm trying to deliver that in the kind of content and education and speakers," de St. Paer said.
Charles Schwab had also been expanding its ETF business through commission-free ETF trades on its ETF OneSource platform. With the introduction of commission-free trades on all stocks and ETFs, the growth is expected to continue.
"I think the elimination of trade commissions helps investors full stop. I think it reduces friction in the marketplace. I think it helps people use ETFs and use ETFs more," de St. Paer added.
Watch the interview between and ETF Database Co-CEO Tom Lydon and Jonathan de St. Paer:
---
Content continues below advertisement