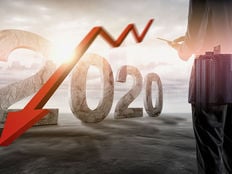 The bond markets have been sending a tried-and-true recession signal with an inverted yield curve, but that might not be the case in 2020 according to DoubleLine Capital CEO and Wall Street "Bond King" Jeffrey Gundlach. While the markets have been sensitive to U.S.-China trade news, Gundlach doesn't see a trade deal happening in the near time frame, but that also shouldn't derail the economy and send the U.S. into a recession.
Per a CNBC report, "Gundlach noted that consumers' perception of current conditions would have to drastically deteriorate while weekly jobless claims spike up for a recession to take place. Consumer sentiment has tapered off in recent months but remains at relatively high levels. Weekly jobless claims, meanwhile, fell to a seven-month low in the week that ended Nov. 30
"We've never had a recession without negative leading indicators," Gundlach told CNBC's Scott Wapner on Wednesday. "Leading indicators are low right now … but numbers that are rolling off from the December-January period are quite low. So our forecast is that those are going to improve, which makes it very unlikely that we'll have a recession in the next six to 12 months."
---
Content continues below advertisement
Something High (Yield), Something Low (Risk)
Investor interest in bond ETFs reached fever pitch during the summer as volatility in equities spurred a demand for safe haven assets. However, low rates have high yield bond seekers looking for ways to earn a higher-than-average return on debt, which they may find in the VanEck Vectors Fallen Angel High Yield Bond ETF (ANGL A-).
ANGL seeks to replicate as closely as possible the price and yield performance of the ICE BofAML US Fallen Angel High Yield Index. The index is comprised of below investment grade corporate bonds denominated in U.S. dollars that were rated investment grade at the time of issuance.
Other options include lower-risk investment-grade debt. After investors got washed through the summer volatility cycle thanks to trade wars, that may have tamped down their risk-on sentiment and this is where a potential buying opportunity exists for investment-grade debt—as a result, high yield underperformed as investors flocked to the safer confines of quality oriented assets like investment-grade debt issues.
Investment-grade corporate bond-focused fixed-income ETF options include the *iShares Intermediate Credit Bond ETF (CIU A), iShares iBoxx $ Invmt Grade Corp Bd ETF (LQD A)* and *Vanguard Interm-Term Corp Bd ETF (VCIT A)*.
This article originally appeared on ETFTrends.com.