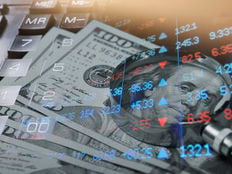 The ETF industry continues to attractive billions of dollars in new investor money, and many have turned to fixed-income ETFs this year.
"If we keep on the trend, it'll be the best year ever for fixed-income," Noel Archard, Global Head of SPDR Product, State Street Global Advisors, said at the 2019 Schwab IMPACT conference. "We definitely saw this big uptick start last year."
Archard argued that with the ETF industry maturing and providing more choices, ETF investors can now pick and choose their fixed-income plays like what they've done with equity ETFs.
"There's a lot more choice today and investors can dial their portfolios in with fixed income the way they do and have been doing with equity in ETFs," Archard added.
For example, the SPDR Barclays High Yield Bond ETF (JNK A-), which provides exposure to U.S. high-yield or speculative-grade rate corporate debt, has been the most popular State Street Global Advisor ETF play of 2019, attracting $4.1 billion in net inflows. Investors may have looked into this ETF play as a way to generate more attractive yields in a lower-for-longer yield environment or as a better way to generate returns with volatility dissipating.
The SPDR Portfolio Short Term Corp Bond ETF (SPSB A-), which seeks to provide investment results that correspond to the performance of the Bloomberg Barclays U.S. 1-3 Year Corporate Bond Index, brought in $1.6 billion in net inflows.
Additionally, the SPDR Portfolio Aggregate Bond ETF (SPAB B+), which provides a broad bond market play, added $957 million in net inflows this year.
Watch the full interview between ETF Database Co-CEO Tom Lydon and Noel Archard:
---
Content continues below advertisement