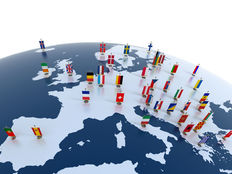 With ultra-low yields in government debt around the globe, it seems fixed income investors are taking higher-yielding assets any way they can get it. This has been evident in Europe where high-yield bond sales are reaching $11 billion in the month of January alone.
Per a Bloomberg report, "One of the riskiest corners of the European bond market is enjoying its busiest January ever as companies rush to grab ultra-cheap yields and some of the more dubious instruments popular ahead of the financial crisis resurface. Junk-rated borrowers lined up close to 7 billion euros of issuance into the market this week, with sales nearing the 10 billion euro mark ($11 billion) this month, Bloomberg data show."
It's causing market experts to see the froth developing in these riskier assets.
"We're definitely in peak greed territory," said Olivier Monnoyeur, a portfolio manager at BNP Paribas Asset Management. "We've seen this movie before, and it doesn't end well."
Nonetheless, the notion that low yields could persist for some time in addition to the recent U.S.-China trade deal could spur more high-yield debt acquisitions. Until that narrative changes, it's still risk-on for investors willing to take the higher yield for the increased chance of debt default.
"The lower-for-longer message from central banks, combined with optimism around an amicable conclusion to the trade war has reignited the global hunt for yield," said Kevin Foley, JPMorgan Chase & Co.'s head of leveraged finance capital markets for EMEA. "Yields in the high-yield market are flirting with all-time lows and issuers are recognizing the opportunity."
---
Content continues below advertisement
Global High Yield Exposure via ETFs
Investors can look overseas for higher-yielding assets via ETFs like the Vanguard Total International Bond Index Fund ETF Shares (BNDX A-). BNDX seeks to track the performance of a benchmark index that measures the investment return of non-U.S. dollar-denominated investment-grade bonds.
BNDX employs an indexing investment approach designed to track the performance of the Bloomberg Barclays Global Aggregate ex-USD Float Adjusted RIC Capped Index (USD Hedged). This index provides a broad-based measure of the global, investment-grade, fixed-rate debt markets.
For investors seeking high-yielding income and emerging markets exposure, they can look to the VanEck Vectors EM High Yield Bond ETF (HYEM A-). HYEM seeks to replicate the ICE BofAML Diversified High Yield US Emerging Markets Corporate Plus Index, which is comprised of U.S. dollar denominated bonds issued by non-sovereign emerging market issuers that have a below investment grade rating and that are issued in the major domestic and Eurobond markets.
This article originally appeared on ETFTrends.com.