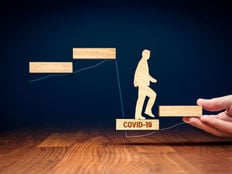 We recently examined the impacts of a post-COVID era on business, the consumer, and global trade. Assuming that COVID vaccines are broadly available in the second half of 2021, we foresee changes in the growth trajectories of some industries. Importantly, some of these trends started before the pandemic, but COVID has now strengthened them.
First, let's consider some consumer related impacts. In the post-COVID world, we expect consumers to continue moving towards online shopping. Consumers have had both the opportunity to enjoy a generally positive experience with online shopping as well as the time to develop new online shopping habits. The increase in online shopping should benefit the companies in the ecommerce space as well as those industries that support it, such as shipping companies. While the COVID pandemic has certainly increased online sales, non-ecommerce still dominates retail sales at this time. According to data from the U.S. Federal Reserve's Bank of St. Louis, ecommerce has grown to nearly 20% of all retail sales, which means that over 80% of retail sales is still done through brick and mortar. We think that the huge amount of spending still taking place at traditional retailers leaves a lot of growth potential for ecommerce as it closes the gap with retail spending.
Click here to read the full article on our sister site, ETF Trends.
---
Content continues below advertisement